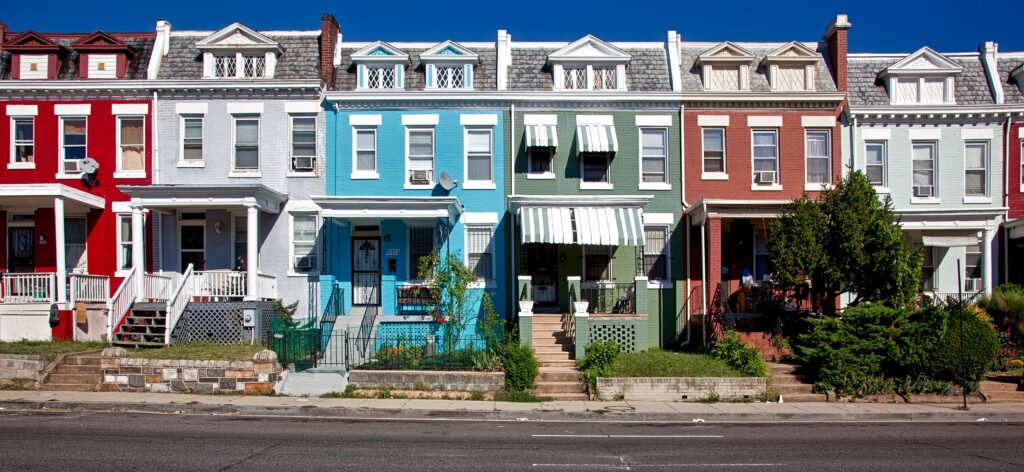 Wholesaling real estate appeals to many investors, because it allows you to invest in properties without any upfront capital of your own, or the headaches that come along with owning and maintaining a physical property.
Now, with work-from-home seemingly here to stay, more and more people are searching for ways to get into property investments (while they can still hopefully secure a good deal on a home from a motivated seller) – only they want to do it 100% remotely.
But can you wholesale a property completely online, without ever seeing it, or meeting your buyer or seller, in person? Let's consider why or why not.
What is wholesaling real estate?
Wholesaling real estate is essentially matching sellers to buyers, and taking a fee for your troubles. There are a few different ways to carry out the process, but in general, it works like this:
A wholesaler finds a motivated seller and negotiates to purchase their (often distressed) property at a below-market-value price.
They sign a purchase agreement.
The wholesaler finds a buyer and signs an assignment contract, assigning to the buyer the right to buy the house at a slightly higher price (the amount specified in the initial purchase agreement + the wholesaler's "assignment fee").
The wholesaler hands over the paperwork to a local title company, the buyer and seller close on the deal, and the wholesaler receives their fee.
How can real estate wholesaling be done online?
Viewings
Wholesaling digitally is not impossible. In fact, according to the National Association of REALTORS®, more than half (52%) of homebuyers in 2019 found their home through the internet. And, because of the pandemic, shifting to online viewings is only going to become more common.
Nowadays, you can use 3D tours, video calls, and Google Street View to get a feel for the property and its surroundings, no matter where you are in the world.
However, there are some definite cons to wholesaling without ever viewing a property in person:
You're limited to what's listed online. Many wholesalers find the best properties by driving around target neighborhoods and looking for distressed houses. If it's already advertised online, chances are you won't be able to negotiate as good a deal, since there will be agent commissions to pay (although you can still find some deals this way, and by focusing on FSBOs). The other option is to have an awesome inbound marketing strategy – more on that below!
You can't catch hidden problems. 3D tours and video calls will never completely make up for seeing a property (and the area it's located in) for yourself. You can work with a local inspector or field agent on the ground, who will give houses a once-over for you, but you'll have to ensure you trust them to spot any potential problems with a discerning eye.
You won't be able to negotiate contracts in person, which can make it a lot harder to read the seller and build a rapport with them.
That being said, lots of experienced investors do buy houses sight-unseen. So, if you want to know how to wholesale online, here's what you need to consider next:
Building a cash buyers list
The goal of a wholesaler (once they've negotiated a Purchase Agreements) is to find a buyer for the property. To do this efficiently, you need to build a list of contacts—either owner-occupiers, or individuals/companies that are looking to buy distressed houses and flip them at a profit.
Typically, you build this network by sending out mailing lists, taking out ad placements, or attending in-person events. The goal? Make distressed sellers come to YOU. Just keep in mind that, for every 100 ad impressions you get or emails you send out, you're probably only going to get 1 response – maybe up to 3, if you're really lucky. So it's a numbers game.
Fortunately, though, there are also lots of ways to develop your cash buyers list completely online, by:
Joining real estate groups in MeetUp.com or Facebook
Running ads on Facebook, Google Ads, or other social media platforms
Setting up a website and gathering emails through a signup form – then sending out regular newsletters to your mailing list with details of all your available properties
Ideally, you'll want to get the contact information and purchasing criteria of these buyers, and keep a simple database of their requirements and preferences, like:
How can I contact you for real estate deals?
Which area do you want to invest in?
What kind of properties do you prefer? What do you want to avoid?
What type of investment are you looking for? Is it cash flow, house appreciation, flipping, or do you want to live in the home yourself?
How quickly and often can you close deals?
Negotiating the Purchase Agreement
Once you've found some properties and have a cash buyers list, you need to evaluate each deal based on the following:
The market value of the property
The cost of repairing/renovating the property
The Assignment Fee you'll be taking as part of the wholesale deal
Keeping these three things in mind will help you calculate your maximum allowable offer (MAO).
Then, you have to negotiate with the seller to agree to a price that leaves room for you to make your profit as a wholesaler. This is where working online becomes potentially tricky: at some point, you're going to at least have a phone conversation (or several) with the seller, and without meeting them face-to-face, you need to have some pretty great skills as a salesperson to seal deals consistently over the phone.
Except, of course, if you've done a great job advertising your wholesaling business online, and motivated sellers are beating down your door trying to sell you their houses. In that case, the sales calls should be pretty straightforward!
For more wary sellers, you can try using video calls, but many won't be used to Skype or Zoom, and many others won't bother giving you the time of day. A lot of homeowners balk when they hear you'll be putting in an offer without viewing the property in person – however, if you have a local agent going to view properties on your behalf, this isn't usually a problem.
Once you've signed the Purchase Agreement, the next step is to start advertising the deal to your buyers list – and for that, you'll need marketing photos. Even without visiting the property, though, you can get these relatively easily, either by asking the owner to take some for you, or getting your local representative to do it.
Closing the deal
Another common concern when wholesaling (even in person) is that, once the buyer and seller both see the amount you're receiving from the deal as your Assignment Fee, they'll want to back out, because they think it's unfair that you're making a profit from the sale.
When wholesaling real estate online, this can be even more of a danger. All they have to do is stop replying to your emails, and work out an arrangement between themselves in person. For that reason, a double closing may seem like the better option for online wholesaling.
In brief, the difference between assignment and double closing is:
Assignment of Contract is when you have the property under contract and you transfer those rights to another party (without ever owning the property yourself).
Double Closing is when you buy the property yourself, then immediately (often on the same day) sell it at a higher price to another buyer.
You'll still need to have a representative attend the closings on your behalf, but it is possible to close on a house remotely, using e-signatures.
Closing wholesale deals online can therefore have several benefits, like:
You don't have to wait long for physical documents to be signed, making it faster and more convenient.
The back-and-forth requires less energy than driving to in-person meetings.
Distance is a non-issue, so you can work with buyers and sellers who are out-of-state, or even out-of-country.
Everything is documented properly, with a digital paper trail.
You can access all of your essential documents in one place using cloud storage.
Summary
So, can you wholesale real estate 100% online? Yes, you can.
Should you wholesale real estate 100% online? That's another question.
Most forms of real estate investing are not a way of generating passive income – unless you're investing in a REIT (real estate investment trust). Typically, even with wholesaling, you want to view the property in person to make sure you're getting what you paid for (and not taking on any nasty, expensive surprises which will prevent you from re-assigning the contract to a potential buyer).
However, if you have trusted partners on the ground who can meet with buyers and sellers and attend viewings and property inspections on your behalf, then wholesaling online becomes a lot less risky.
And, with our world becoming increasingly driven by technology, virtual wholesaling will probably only become more popular in the coming years.
That's because now, with just a working laptop and fast internet connection, you can:
View properties (sort of)
Build your cash buyers list
Negotiate Purchase Agreements
Close the deal and collect your fee
All from the comfort of your own living room!
Image Courtesy of Pixabay