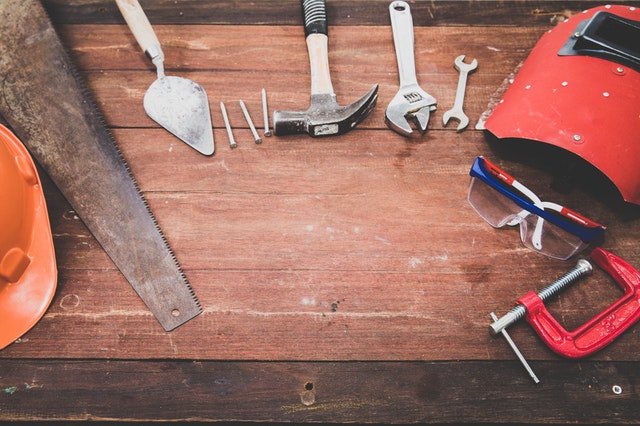 When it comes to DIY, "Why pay someone to do it when you can do it yourself?" is what most new flippers would say… at least until they realize how underprepared and underskilled they are for extensive repairs!
Some renovation projects are tough to do as well as a professional would, even with the best of YouTube tutorials. If you're not qualified to replace roofs, repair electrical systems, fix the plumbing situation, or install new gutters, doing them yourself could lead to costly and dangerous consequences.
Faulty work leads to spending more time and money trying to fix your mistakes, if you don't know what you're doing. Lots of seasoned flippers can do nearly any project themselves, but many more newcomers to the industry try their hand at things above their pay grade and end up regretting it later on.
So if you're new to the world of DIY, here are six fixes that should be left to the professionals—even if you think you can do it yourself.
Roof Replacement
The fact that we refer to homes as a "roof over our heads" shows how important good roofing is for a home. Nobody wants to buy or live in a house with a damaged roof!
The roof is such a vital part of the infrastructure—you will want to make sure that it's installed right to not cause any problems in the future. And while many people may think replacing a roof is easy, it really isn't.
Here are just a few of the complexities you can encounter:
The height & pitch of the roof can require special safety equipment.
The underlayment is critical, but often done incorrectly.
Do you know what drip edge is for?
How do you prevent ice dams from causing roof leaks?
Unless installed by a licensed professional, most shingle warranties are voided.
Instead, you should hire a professional whose whole job is to replace roofing. Not only will they assess the roof before replacement, but they will also have all the suitable materials and tools for the job, as well as the much-needed experience in construction-related safety issues. A professional roofing company would also have warranties that can save you money in case something goes wrong.
Electrical Repairs
Repairing the electrical system of a home is another dangerous task to DIY.
In your house flipping journey, you might run into older homes with outdated or broken electrical systems. When that happens, you'll want to spend extra on hiring a professional who has the training and experience to work with electrical currents—especially because they can be deadly when mishandled.
Feel free to install new light bulbs in the home, or to change light fixtures, plugs and switches if you're a handy person, but anything more complicated than that should be handled by a licensed electrician. Here are the common issues often found in older homes that signal it's time to call an electrician:
Replace electrical panels
Replace an exterior riser or the main feed from meter to panel
Messing with meters
Run underground electrical lines
Install a new circuit to an electrical panel
Plumbing Fixes
While improperly installed plumbing fixes aren't as dangerous as electrical systems, they can seriously set your budget back and eat into your flipping profit. DIY-ing a simple leak might save you a couple of bucks, but if it escalates into a flood, that's thousands of dollars instantly added to your expenditures.
Beyond fixing a slightly clogged drain or replacing a new faucet, extensive plumbing repairs and maintenance are best left to the professionals. Here are some plumbing fixes that a professional plumber should do:
Replacing underground sewer or water lines
Replacing corroded stack or main supply lines
Replacing or repairing water heaters, sump pumps, and worn down or burst pipes
Running new drain lines, unless you know the exact pitch required by code
Drywall Mudding
Drywall mudding is more artistic than people think, so it's tough for non-professionals to do well. You can hang drywall yourself, because unless you totally butcher it it's fairly uncomplicated to hang, but doing the taping and mudding takes an artistic touch.
Plus, even if you do manage to do your own mudding, it definitely will not be as seamless or aesthetically pleasing as work by a professional company. Ugly drywall is a serious eyesore which could turn buyers off from an otherwise beautiful house, so leave it to the pros.
Structural Repairs
We've all seen that part on the DIY home improvement show when the clueless flipper bashes through a load-bearing wall and almost caves the whole house in.
Don't be that guy. Structural repairs are one of those things which even pro flippers hire contractors for, because the cost of making a mistake is so high. Stay away from all structural work as a new flipper, including:
Bowing walls
Cracked floor joists
Bowed roof or ceiling
Removing walls for an open floor plan (are they load-bearing?)
Fixing or Replacing Heating Systems
Installing the wrong efficiency furnace or replacing with one that's mismatched with the exhaust system could be fatal, literally. For an 80% efficiency furnace, you use a particular exhaust, but if it's 90%+, it's a totally different exhaust system, which is not compatible with 80%-efficient systems. If someone gets poisoned with carbon monoxide in a home where you worked on the furnace, you're liable.
The same applies with duct work. There are equations which experts use to calculate the type of ducting required, based on the size of the house, furnace type, distance from furnace, etc. Get it wrong and this could lead to a house that's not heated well and puts more strain on the furnace, so it wears out faster.
Conclusion
Know your limitations, and you will save thousands of dollars – not to mention headaches! Even if you're a crafty person who loves to learn new things, there are certain cost-cutting measures you want to avoid when it comes to flipping a home.
So, the next time you want to replace the roof, repair the electric system, fix the plumbing, or install new gutters in the home you're flipping—grab your phone instead to protect your flipping profit as much as possible.
Image Courtesy of Suntorn Somtong