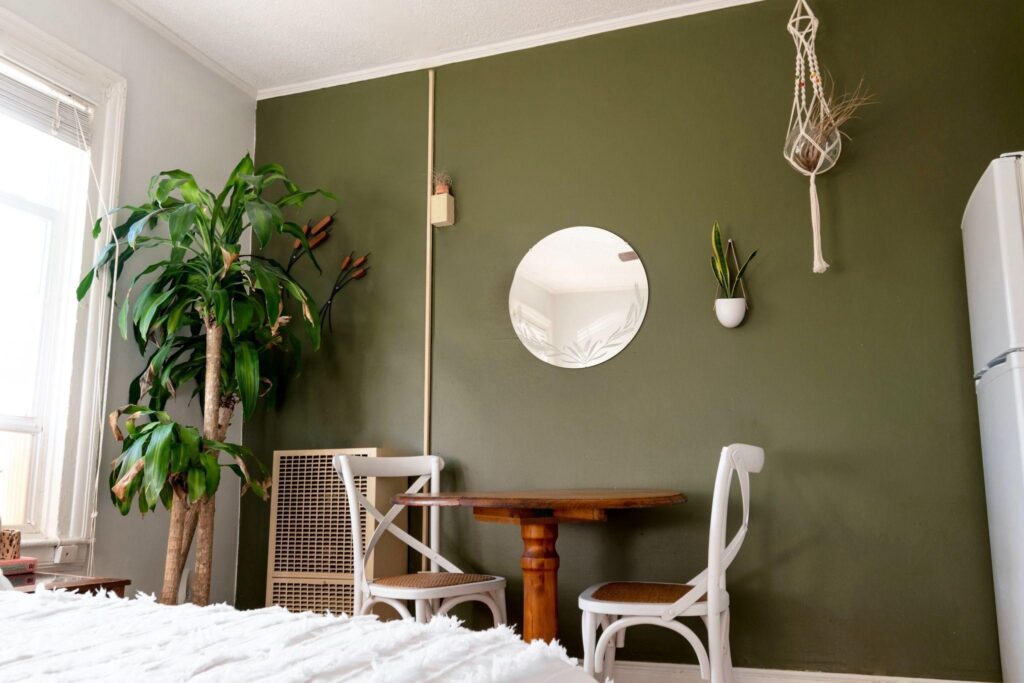 What accommodation did you book for your last vacation?
We'll bet $100 that you Googled something like "tiny home" or "farm stay" instead of the usual hotel room!
The US real estate market is filled with short-term rental market opportunities, where people gravitate towards cozy, picturesque rentals instead of cold, clinical hotel rooms. Millions of listings sell an excellent guest experience, and the market for unusual Airbnbs grew tenfold during the pandemic.
Still, some hotspot, short-term housing markets like the City of Detroit remain overlooked. Many investors focus on the likes of San Francisco, California, and miss out on the goldmine that's largely still untapped in Michigan.
So, in this article, we'll go through market trends and statistics that prove the potential of the Detroit short-term rental property market in 2023 and beyond.
Short-Term Property Statistics in the City of Detroit
Let's start with the numbers. How is the Detroit real estate market performing in 2022?
Understanding the data behind the average Detroit property investment will give you an idea of the city's short-term rental capabilities, so you'll know what returns to expect. Besides handling renters and maintaining the property, financial viability will always be the driving factor in every good investment.
So, here's a snapshot:
Affordable properties: The median price is $85,000 with 7.6% increases year-over-year, making it an affordable city. And with a price per square foot of $75 (less than half of the $222 national average), you'll easily find Detroit properties that fit your investment budget.
Excellent cash flow: The rent-to-price ratio is roughly 1% to 1.5%, depending on which Detroit neighborhood you choose to invest in. With this range of ratios, you'll easily generate strong cash flows that'll help pay off the initial investment and start pocketing returns.
Profitability with short-term rentals: The average rental income for short-term rental investing is $2,246, which is a huge difference from the already-profitable traditional Detroit investing where rental income is around $979.
High occupancy rate: Average Airbnb occupancy rate is 50%, whereas most US markets have an average of roughly 20% to 40%.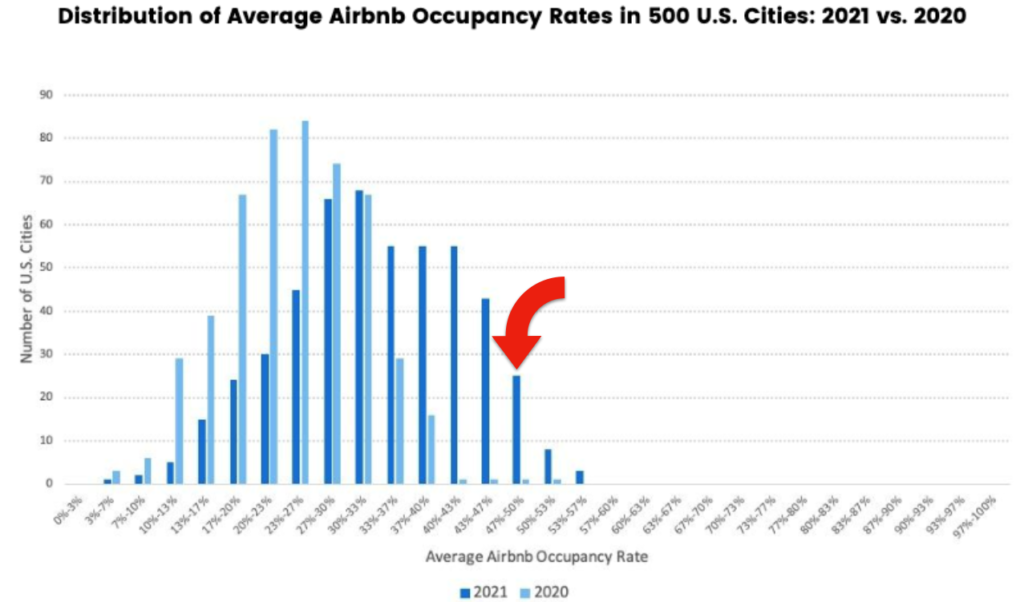 Still, be aware that the City of Detroit only allows short-term rentals in your primary residence or owner-occupied properties with two to four units. You can read more about this rule from the local government's website to ensure that you comply accordingly.
2023 Forecast for Short-Term Rentals in the City of Detroit
As an investor, looking at market forecasts is almost as crucial as checking historical trends. So let's take a closer look at the forecast for short-term rental properties in the City of Detroit, to help you decide if renting a Detroit home in 2023 is worth your time and money.
According to Zumper, 302 short-term rental properties are currently listed in the city. This figure may seem small compared to the literal thousands of long-term rentals you'll see on Zillow, but it still indicates a growing short-term rental market in Detroit neighborhoods, as we'll see in the statistics below.
1. Growing Average Rent Prices
Average rents dipped in major cities across the nation recently. But Metro Detroit as a whole is faring well, where the fastest growing rent year-on-year in the area is in Ann Arbor, where average rent has gone up 23.5% since last year—that's a 16.1% rent increase.
The chart below shows a 20% rent increase for three-bedroom rentals in the past year: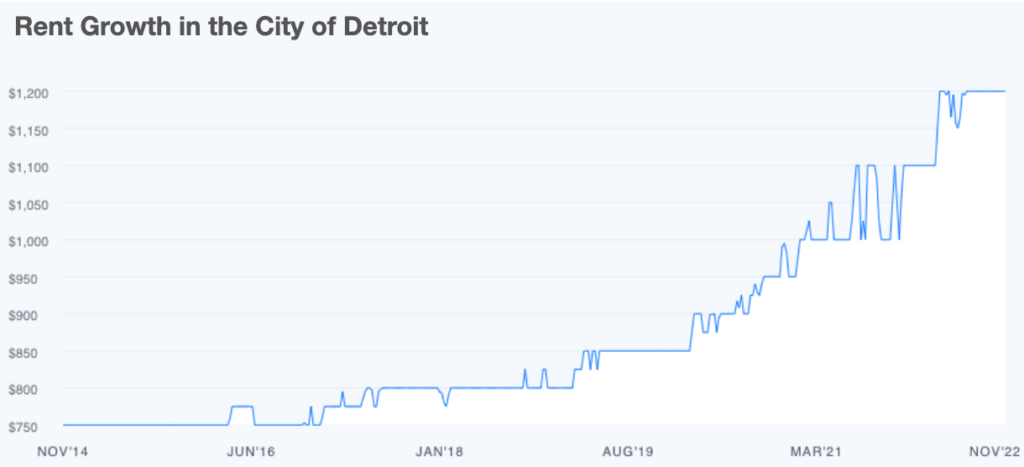 Increasing rent means increasing cash flow for you as the investor. Combine rent increases with the impressive 50% average occupancy rate we mentioned, and you're looking at excellent returns in the City of Detroit.
2. Increasing Property Values and Appreciation Rates
Detroit properties are increasing in value, which means you'll get to reap excellent equity gains if you hold onto them for the long haul. Zillow reported that Detroit home values are is at $69,330 (very affordable), and Norada said the values increased by 23.7% in the past year (very valuable):
The latest forecast announces that Detroit median home prices will rise by 2.1% from 2022 to 2023.
The city's real estate also appreciated 89.7% in the past decade, placing it in the top 30% of all cities nationwide for property appreciation. In the last 12 months, its rates have remained among the highest in the country, which explains why short-term rental investors continue to find success in the city.
3. Improving Tourism in the City of Detroit
Michigan's Motor City has had a unique culture, distinctive architecture, and revitalization renewal efforts for the past years The city is now a prominent tourist destination, called by Time Magazine a "newfound glory," where travelers are playing a role in its vibrant economic growth.
Eating alone is becoming a real treat in the city, where one can experience Indian cuisine in the Midnight Temple near the Eastern market, immerse themself in Chef Maxel Hardy's rosemary-filled Rosemary cafe then stray into the adjacent cigar lounge, Byrd. Or, chow down fresh seafood boils straight from the Great Lakes at What's Crackin'.
The city has dramatically been revitalized from "dangerous" to vibrant and impressive. Today, people are saying, "I didn't expect the city to be like it is, it's really amazing!" and "We got the chance to see the city and I really would recommend [coming] here."
Owner of Multilingual Detroit Motown Tour, Dildora Damisch, shares, "This year, I cannot believe, I am booked every single day! And people coming from all over the world! Unbelievable." And why wouldn't she, with more than 2 million international visitors in one year alone?
Accommodations are wildly increasing in the City of Detroit to serve the influx of travelers. There are over 500 new hotel rooms currently in development, including the 158-room Cambria Hotel opening in late 2022 (with golf simulators, Bluetooth mirrors, and the Detroit Taco Company Bodega), and ROOST Apartment Hotel is set to open in early 2023 in Book Tower, a restored iconic Detroit building.
Your short-term rental could easily leverage the city's growing tourism industry.
2023 is a Great Year for Detroit Short-Term Rentals
Without a doubt, 2023 is an excellent year to either expand your portfolio or start investing in the City of Detroit's short-term rental property market. With growing average rent prices, increasing property values, and improving tourism in the city, impressive historical trends will likely continue their upwards direction for years to come.
Want to learn more about Detroit real estate? Join as a member, subscribe to our newsletter, and attend our upcoming meetings! We're doing everything we can to ensure that you're prepared, equipped, and confident enough to reap great returns from Metro Detroit.