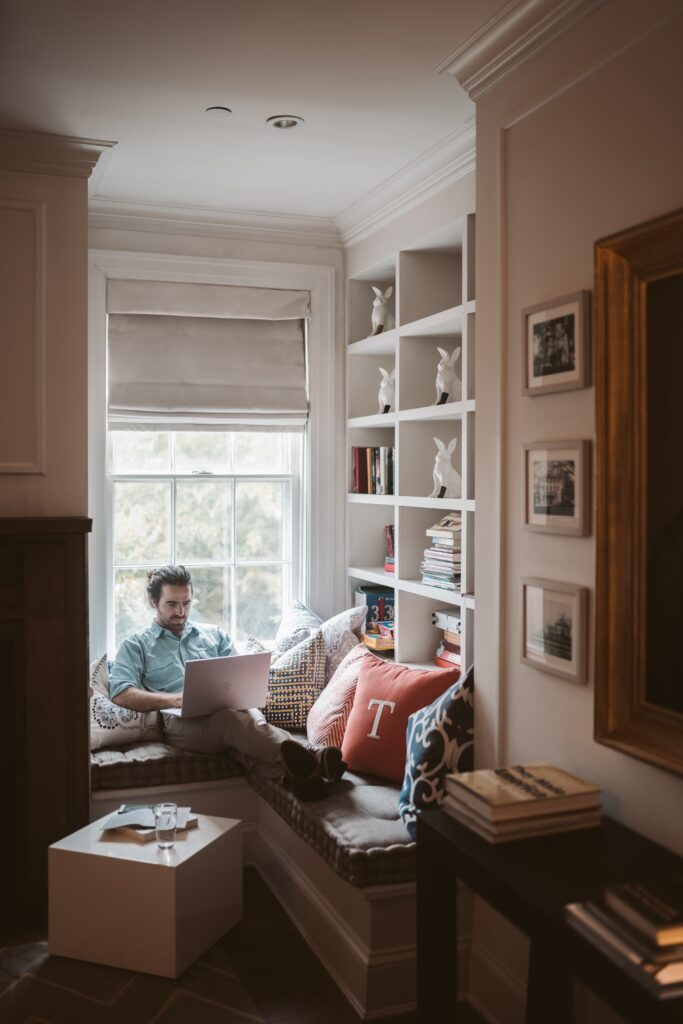 Now that work-from-home is normal, many Americans are planning to move!
The pandemic has shown both employers and employees that remote working is possible, profitable, and preferable. Employers enjoy lower overhead costs, while employees can relocate to areas with a lower cost of living and larger homes.
Don't believe that work-from-home is really here to stay?
Just check out these statistics from Upwork reports:
1 in 4 Americans said they'll be working remotely in 2021.
The U.S. predicts an influx of 14-23 million remote workers soon.
14-23 million Americans intend to relocate as a result of remote work.
36.2 million Americans (22% of the workforce) will be working remotely by 2025—an 87% increase from the number of remote workers prior to COVID-19.
With so many people planning to relocate, your tenant base can expand beyond the traditional type of applicants you received in the past – like those who work at nearby companies. Tenants can now come from anywhere, work anywhere, and will have priorities that are different from tenants who commute to a job nearby.
As a landlord, you need to know what these remote-working tenants are looking for, so you can tailor your marketing efforts and investment strategy to capture this huge new market.
Let's look at 7 different ways you can attract them:
1. Offer a Work-Conducive Space
Whether your rental property is a stand-alone house or apartment units in a building, remote workers now prioritize a space for working almost as much as a space for sleeping! They will look for a home that's well-lit and has a dedicated office space, ideally – perfect for long hours of work.
This could be as simple as a secluded corner where an office table would fit perfectly, or a spare bedroom that's easily convertible to a home office. Both areas should be ready for additional electrical wiring (e.g., outlets or light sockets) and additional shelves or cabinets. Remember, remote workers will be spending at least 8 hours of their day in whatever working space your home can provide—if you want to attract them, you need to cater to their working needs and make this area as ideal as possible.
2. Advertise Where They Are – Online
With the coronavirus solidifying our dependency on technology, many landlords have already adapted to digital means of advertising. Now, with most applicants finding and even viewing properties online, digital listings have become more important than ever.
In other words, you need to create a killer ad on real estate sites and renting platforms, or else nobody will find you!
Aside from standard details, such as the rental rate and location, you should also highlight parts of your property that will be attractive to remote worker renters. This will vary from property to property.
For apartment units, this may mean laundry services or swimming pools, but the most important thing is to make sure there are stable, fast internet speeds available from providers in your area. It may also mean plenty of nearby businesses, shopping centers and other local amenities, like services to support remote working (print shops, etc.). With proximity to the office becoming a lower priority, having amenities and services near their residence might appeal to tenants more than commuting times in the current environment.
In special cases, you might advertise a home specifically because it gives the off-the-grid appeal. Remote workers finally being able to move away from the city might be on the lookout for a quiet retreat from the hustle and bustle of metropolitan life, so rural and remote rentals might be more in-demand now with WFH tenants.
3. Emphasize Value for Money
One of the biggest reasons why remote workers move is because they want to pay lower rent, and they're now no longer limited to renting in expensive areas, just to be closer to their office.
Think about this when marketing your rental properties.
For example, if your home is a 3-bed, spacious property in a Class A neighborhood that rents for the same cost as a 1-bedroom apartment in your closest major city, you could say: "2000 sq ft house on ½ an acre (in an award-winning school system), for less than the price of a Chicago apartment!"
Speaking directly to the pain points currently experienced by your tenant base will help make your listing more appealing to them, and could help you stand out from the crowd when marketing to WFH applicants.
4. Provide 3D or Virtual Tours
Because of social distancing rules, travel restrictions, and the risk of infection, many people now avoid visiting properties in-person. Providing virtual tours for prospective tenants will allow them to "visit" your property freely at any time of the day – from anywhere in the country! This makes it easy for remote workers who are planning to relocate to view your property, even if they're stuck in the middle of a city at the moment.
There are plenty of softwares available on the market that specialize in creating virtual tours for your property. Consider getting a professional to come film and create your virtual or 3D tour, because in some cases, it will be the only point of reference your tenants have before deciding whether or not to rent your property. It's important to make a great impression with your tour, so spending a little cash on having it done by an expert is well worth it – especially since you'll be able to re-use the same 3D tour in future years (as long as you don't do any major renovations).
5. Assure a Contactless Process
Now that remote work is becoming the norm, you (as the landlord) should also consider having a contactless process for managing your rental properties. Not only will this make things easier for you to manage, but it also makes the system safer for your tenants.
Nearly everything in real estate can be done remotely, such as:
Self-guided virtual tours
Thorough tenant screening
Document preparations
Securing digital signatures
Collecting rent via online portals
Delegating, coordinating, and monitoring tasks to contractors
As a bonus, remote worker tenants will most probably have no problems adapting to a digital process – in fact, it's what they're used to, at this point! Mention in your listing that you offer these contactless solutions, and it can help attract these tech-savvy tenants.
6. Highlight Health & Safety Measures
Moving during a pandemic can be a scary undertaking, especially if tenants are worried about coming into contact with the virus when they move into their new home.
To give them peace of mind, make sure you thoroughly disinfect the property before move-in day by deep-cleaning the carpets and furniture, mopping floors, wiping down surfaces, and clearing the ventilation systems.
You can hire a professional disinfection service to sterilize the property with UV light, smoke, or cleaning solutions, and even provide a certificate stating when the disinfection took place. Again, highlighting these safety measures in your ads will help reassure applicants who are concerned about transmission.
7. Allow their Pet Companions
According to The Humane Society of the United States, 72% of renters have pets. Now that many people are transitioning to WFH, this number might even increase.
Some tenants who never were able to care for a pet before due to long hours spent out of the house might now decide to get that puppy they've always dreamed of, since they're working from home. Others may be feeling isolated during the lockdown and have only their furry friend to keep them company – so if your rental means giving up their pet companion, it might be a deal-breaker! Allowing pets right now therefore could be an additional way to attract remote workers as tenants.
However, if you don't want to consider having pets in your rental properties, just be aware that more tenants could be trying to sneak in unauthorized pets now than in previous years – so that's something to keep an extra-close eye on when inspecting properties.
Conclusion
The best landlords are always on the lookout for the next real estate trends. Remote working is just one of the huge trends that emerged in 2020, but experts are predicting that it's a trend that will remain in 2021 and beyond.
Because of this, landlords need to make sure their rental properties are primed to attract the huge influx of remote workers who are on the hunt for a new home.
Take advantage of this new opportunity to meet the demands of our ever-changing society—and grow your rental business in the process!
Are you renting out to remote-working tenants? What are the things they tend to look for, in your experience?
Image courtesy of Teryn Elliott