Most real estate wholesalers only focus on only one thing: Connecting sellers with buyers. So, they build a buyers' list of flippers and buy-and-hold investors every day, manually turning the wheel and generating a consistent flow of income by sealing deals as often as possible.
However, while being the middleman is lucrative, it can also be very labor-intensive.
You're constantly on the lookout, hunting for opportunities to get a house under contract at a workable price. Then you're always trying to find buyers to sell it immediately after purchasing. As a result, you buy low, sell high, and repeat—because stopping means no income.
Eventually, you get to a point where you're sealing more deals than you expected. You feel like you're all maxed out, working 60 to 80 hours a week. You say to yourself, "I made it! I'll just keep doing this to make more money."
And that's what you'll do forever.
Is it really worth the time you're spending on it? Personally, we think there's another, smarter way to use your time and money. In this article, we'll show you how to harness the money-making power of wholesaling real estate plus renting out properties to build a two-layer strategy within your portfolio. That way, you can generate both active AND passive income.
Wholesaling Real Estate is Short-Term Money – So, it's a JOB
Wholesaling makes money at high volumes. But the biggest downfall with wholesaling properties is that there is a limit to your earning capability (i.e. the number of deals you can physically close each month) because it's very hard to scale.
The reality is this: Wholesaling doesn't build up wealth. It relies on your constant hustling it to earn a living. When you stop working, your income stops.
Let's illustrate this point by going over your daily schedule as a wholesaler:
You wake up early to make phone calls and reach potential sellers and buyers before they go to work.
You continue those calls until lunchtime, because you want to catch them when they're on break.
Then you crawl from courthouses to probates, scan divorce and bankruptcy rooms, do direct mailings, and drive around target neighborhoods to seek good deals.
You also stay in touch with sellers, agents, and buyers with follow-up calls, emails, or physical mailing lists.
You input all of this information in your tracking sheets and databases and continue tomorrow.
You're doing the grind, trying to build a pipeline. Eventually, you'll realize that there's a ceiling to your earning capability because, at the end of the day, you're trading time for money.
For example, you can't physically do 500 calls a day to increase getting good deals. And while you probably feel ecstatic with learning how to improve your margins from one sale to another, you'll eventually realize that $6,500 a month… just isn't enough.
If you want to do something bigger but with less effort, you need something more scalable. You have to expand to other real estate investment strategies to gain more wealth.
Wholesaling Real Estate to Support Long-Term Wealth
Wholesaling is lucrative—especially when you use it as a feeder to a larger, wealth-building business.
Here's the idea: Try to combine the active income you get from wholesaling with other investments that can give you passive income. That way, you'll earn money in the long haul—not just that month.
Let's see how this idea works.
Imagine if you buy one house for every seven that you wholesale. You turn that house into a rental and start earning monthly income from rent. The result? You'll earn dollars that will help you pay an annuity forever. You'll create a ripple effect, growing your portfolio with two strong streams of income—wholesaling fees and rental income.
Wholesaling vs. Rental Properties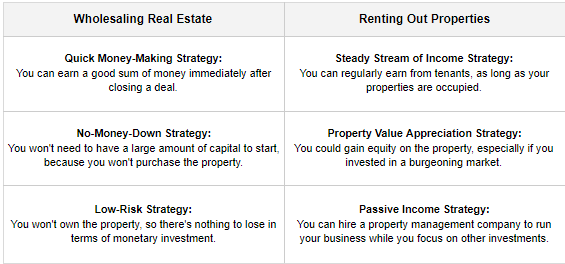 By setting goals like the example above, you stand to gain advantages from both investment strategies. You can make quick money from wholesaling deals, channel a portion of your profits into rental investments, and achieve long-term financial freedom that's not dependent on you working 9-5 as a wholesaler.
Wholesaling Real Estate + Rental Properties = Lucrative Portfolio
Make the most out of your time and money. You don't have to stick to one real estate investment strategy. Instead, you can connect them to build wealth in your portfolio and surpass your previous income goals.
To wrap it all up, continue with your wholesaling plans, but set new goals for the long haul. You'll find that it's much more fulfilling to build a business that looks to the future. Treat wholesaling as a part of your overall investment strategy—instead of just a side hustle.
What is your goal in wholesaling real estate? What's keeping you from scaling your investments?5