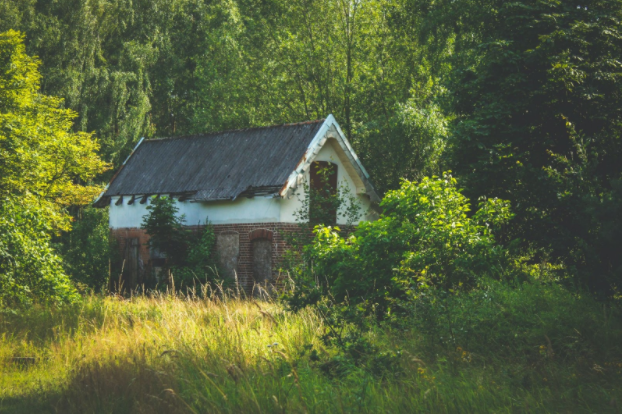 Creepy old mansions may be a nightmare for most people, but they're hidden gems for a house flipper. These oldie-but-goodie properties are examples of how distressed properties have great value within them, giving real estate investors opportunities to gain massive flipping profits.
Why are there distressed properties in the first place?
Well, there are a lot of reasons why a home could become neglected. Here are a few examples:
The home could've been a foreclosed home left to someone as inheritance, but it's located far from where the person currently lives. The home left behind will often go into probate for a year, during which time the new owner cannot touch it. That means it'll sit for a year, quickly deteriorating.
The home could've gone through a natural disaster like a flood or tornado, and the owner doesn't have the funds to repair it. It'll also sit there rotting away.
The home could've been a rental that a tenant trashed and the landlord can't take it anymore—not bothering to fix the home up again.
The home could've been owned by a hoarder with low income. They pay taxes, sure, but they don't have the money, skill, or energy to keep the house in good condition.
Any of these situations leave many homes neglected and, eventually, distressed. However, while these homes are someone's problem, they're certainly your investment opportunity.
Here are a few reasons you should buy distressed properties, and how you can find these lucrative deals.
The Flipping Opportunity with Distressed Properties
To understand how the concept works, we need to first discuss how a home becomes a distressed property. So, here's what usually happens:
Owner Hardship and/or Neglect: Owner of a property loses their job, becomes ill or perhaps relocates. They may also inherit the property.
Property Deteriorates: The issues above lead to the property falling into disrepair. At a certain point, potential buyers either don't want to take on the repairs or can't get a standard mortgage on it due to the poor condition.
Cash Opportunity: At some point the homeowner will try to sell the property. Or maybe a motivated flipper can convince them they should sell. Either way, they will have to sell at a discount due to the lack of market demand for the property when it's in poor condition.
Situations like these give you opportunities to buy properties at a low price. These distressed properties are ideal for flipping because they're rundown homes with tons of hidden value. Yes, they're cheap because they're in poor condition, but the lack of market demand will drive the market value even lower than the cost of repairs.
The Risks and Benefits of Flipping Distressed Properties
Now, while the benefits of flipping distressed properties sound exciting, there are certain risks you'll need to consider before committing to one. Here's a chart to help you see the full picture: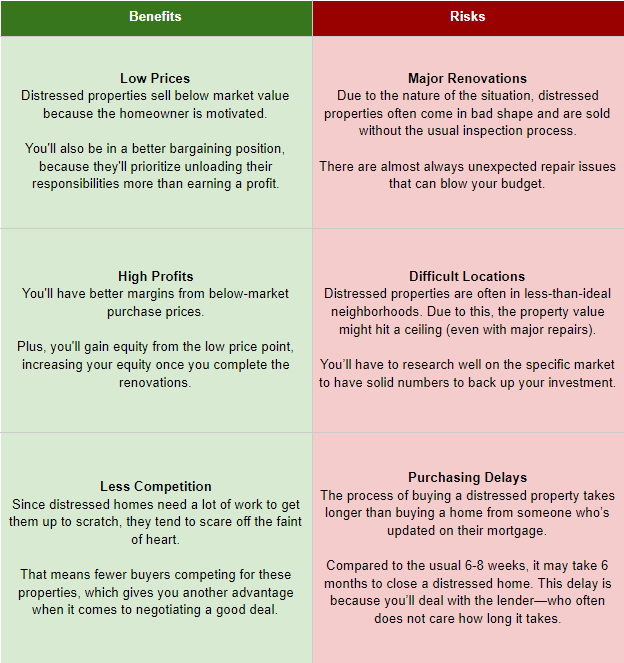 The benefits are great, but the risks are inevitable. By anticipating the potential issues that sometimes arise with distressed properties, you'll be ready to handle high-risk, high-reward fix-and-flip projects without a hitch.
Ways to Find Distressed Properties
You won't find "distressed property" a common label in the real estate industry. Instead, you'll need to think more strategically about how to find situations that will have motivated sellers.
Thankfully, there are several ways to seek out distressed properties. Here are some of them:
Drive For Dollars: Select a neighborhood and look for homes with obvious signs of neglect. These can be signs like multiple notices on the front door, peeling and faded paint, an unkempt yard, broken windows, or uncollected mail.
Access the Multiple Listing Service (MLS): If you can find a way to access the MLS (say, if you have a real estate license or a friend who can help you), you can find distressed properties with remarks like, "handyman special" or "fixer upper". The longer the property stays in the MLS, the higher the motivation of the seller.
Find Foreclosed Properties (REOs): Peruse REO and bank-owned properties to find good opportunities. Lenders and banks aren't in the business of keeping properties, and want to get rid of these non-performing assets as soon as possible. They will likely sell the homes to you at a discount.
Identify Homes with Delinquent Mortgage Payments: You can find public records of delinquent mortgages at your local courthouses. Individuals who can't pay their mortgage are likely willing to sell their home to avoid foreclosure.
You can also try to find motivated sellers with delinquent property taxes, as they're likely behind on mortgage payments as well.
Consider Probate Options: You can visit the probate court to find properties left behind by situations such as divorce or death in the family. In some cases, the family left behind might not want the home. That said, keep in mind that you'll need a special process to make an offer, since the property will be sold through an executor or attorney.
Get in Touch with Out-Of-State (OOS) Owners: Whatever the reason is for them moving to another state, some homeowners struggle to maintain the properties they can't visit often. The result is distressed properties with highly motivated sellers. You can identify these people through direct mail or networking.
Check City Records for Code Enforcement Tickets: A property getting numerous tickets for neglect is a sign of an owner not taking care of their property and may be interested in selling.
Conclusion
Distressed properties are the perfect choice for house flippers since your goal is to acquire undervalued properties with the highest flipping profit. By buying valuable properties at a low price point, you'll set yourself up to gain a large margin for a profitable fix-and-flip project.
What is your experience with buying distressed properties? Do you have any tips on successfully flipping them for a high profit?
Image courtesy of Malte Luk