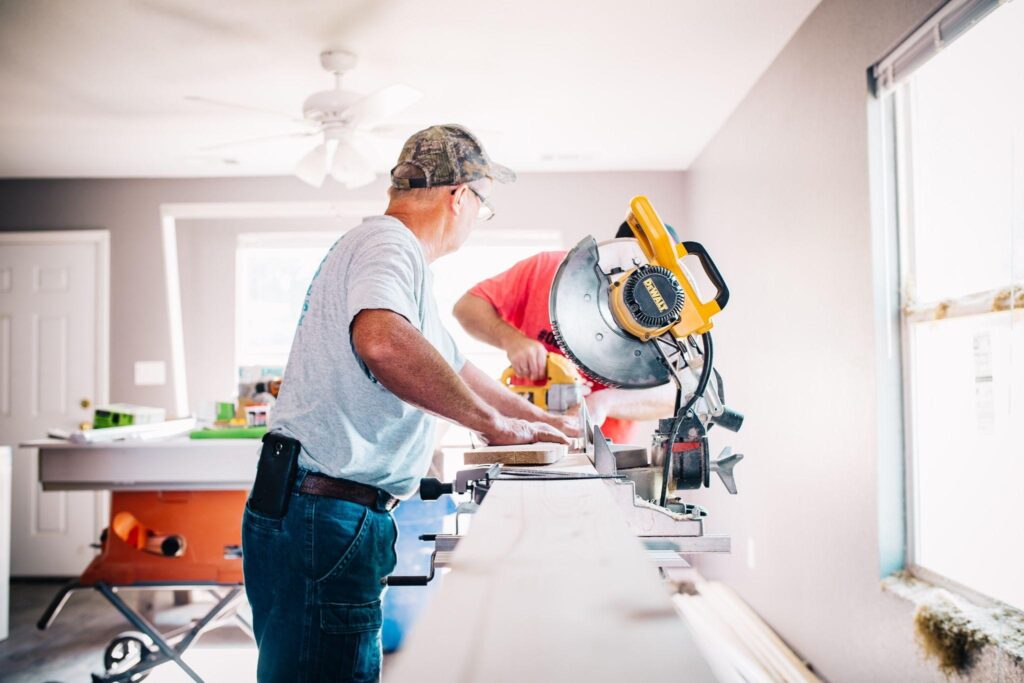 By buying valuable properties at a low price point, you can set yourself up quite well. The better the deal, the better margin for your fix-and-flip projects—but there is always risk involved in the house flipping business. From carpenters dealing with heavy machinery to construction workers on ladders…
A flipping project can be a hotbed for injuries.
For example, over 30% of yearly ER visits in North America—or about 9 million visits—come from people falling off ladders. With danger constantly lurking on your worksite, you're going to want some protection. And flippers need specific insurance that covers their type of work.
In this article, we will talk about the types of insurance you need when flipping houses.
What Kind of Insurance Covers House Flipping?
No one ever plans on things going wrong while flipping a house, but they do happen. That's why it's essential to have the right insurance in place. But regular insurance won't cut it for house flipping, and homeowner insurance won't cover it, either, because it's considered a high-risk environment.
So how do you get good insurance coverage?
Well, you need to look into 3 types of insurance:
Dwelling Policy
Builder's Risk Policy
General Liability Umbrella
Each insurance covers a specific area, which we will discuss in detail.
#1 – Dwelling Policy
A dwelling policy is an insurance that covers a vacant property under renovation from physical damage. Attached structures like garages and porches are also covered. Unlike homeowner's insurance, a dwelling policy doesn't include personal belongings, only the structure itself is insured.
With a dwelling policy, your property is protected against damage caused by:
Fire
Lightning strikes
Heavy winds
Hail
Explosions
Vandalism
Theft
Vehicular accidents
However, depending on your insurance plan, things like vandalism might not be covered. We will talk about the type of plans in a later section.
#2 – Builder's Risk Policy
This type of insurance covers physical damage to the property during the construction process. Like the Dwelling policy, it will protect a home from the same sources of damage. Generally, the builder's risk policy can be thought of as an add-on to the dwelling policy.
However, a builder's risk policy includes additional coverage for the materials and tools needed to repair the property. With a builder's risk policy, you can keep your building materials and tools safe from damage.
#3 – General Liability Umbrella
This insurance can cover you and your investors from liability for accidents and injuries caused during your home flipping project. For example, if a carpenter gets injured while working on your property and sues you for damages, the general liability umbrella can protect you against financial losses.
But keep in mind: The general liability umbrella only covers you, but not the workers and contractors you hired. This means that if they cause an injury while on-site, they won't have insurance to protect them against liability.
The Different Types of Coverage
When you buy insurance, it comes in different levels of coverage to choose from. A basic package might have minimal coverage while higher levels of coverage can protect you more.
Generally, there are 2 types of coverages you need to consider:
Basic coverage – This will cost less but will exclude protection from certain factors. For example, vandalism, theft, and water damage usually aren't covered by a basic package.
Special form coverage – This protects you from all sources of loss except for explicitly mentioned sources that are indicated in the contract.
Depending on your situation, you might need more than basic coverage. For example, if your property is in an area that experiences heavy snowfall—like Alta, UT, which experiences around 457" of snowfall annually—you should definitely get the special form coverage.
How Much Does Insurance Cost?
Unfortunately, there isn't a clear-cut answer as insurance costs vary by region and other factors. Also, insurance prices have no direct link to property prices. Plus, the status of the location usually determines insurance. For instance, If an area is more prone to natural disasters, it will have higher insurance premiums.
Let's take Detroit as an example. The area is susceptible to heavy rains and harsh winters, so insurance is more expensive in Detroit. The national average insurance price is $1,312 annually; meanwhile, Detroit's averages are around $2,237 per year.
In short, depending on the location, insurance prices widely vary.
Protect Yourself From Liability While Flipping Houses
Flipping houses isn't all sunshine and rainbows. Accidents can happen while rehabbing a property. If you're not insured, you might be facing heavy losses due to lawsuits.
To avoid losing money—money better spent on your flipping project—to lawsuits and damages, get yourself insured. With a dwelling policy, builder's risk policy, and general liability umbrella, you can protect yourself and your property from damage and losses.
Do you have any insurance tips for house flippers? Tell your story below!