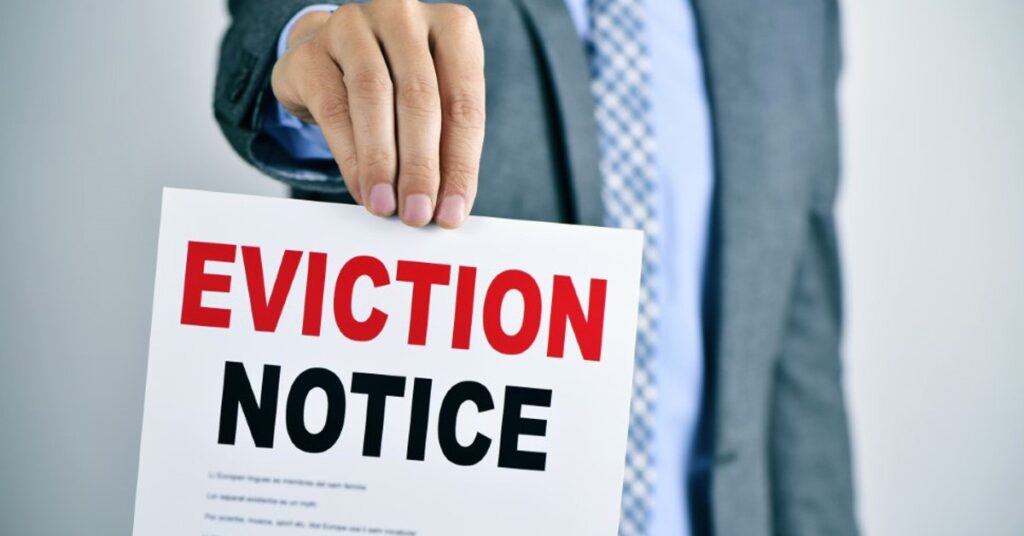 No matter how well you screen your tenants, you'll inevitably come across problematic ones who are more trouble than they're worth. In addition to tenants that stop paying their rent for various reasons, some could be running a liability nightmare or shady business out of your property (putting you at risk of legal consequences), while others may be slobs turning your beloved unit into a garbage dump. You'll have to evict these problematic tenants before they negatively affect your investments.
But evicting tenants is time-consuming and complicated, requiring you to understand all the regulations involved.
In this article, we provide an overview of the Michigan eviction process to ensure that the ordeal goes smoothly. We also give some information for you to navigate the court system if your tenant contests.
The 5 Steps to Evicting a Tenant in Michigan
There are many reasons why tenants can be evicted from their rental property in Michigan, but here are a few of the most common ones. Having proof of this behavior is not enough to evict them—you should follow specific procedures before they can be legally forced to leave your property.
Here are the steps to evicting your tenant in Michigan:
Step 1: Identify the Grounds for Eviction
As a landlord, you must abide by Michigan's landlord-tenant laws, which stipulate that tenants may be evicted from a rental property for the following reasons:
Failing to pay rent: Tenants who fail to pay their rent on time without giving you any prior notice may be evicted according to Michigan law. Rental payments are immediately considered overdue when they are paid a day past the deadline. A grace period is sometimes provided.
Violating the rental lease agreement: Both parties must comply with the signed rental lease agreement for the tenant's entire stay. While the specific terms vary from landlord to landlord, it usually includes rental property damage.
Conducting illegal activity: Under Michigan's landlord-tenant laws, illegal activities include theft, violence, assault, and involvement in the creation, distribution, or consumption of controlled substances (e.g., drugs and other illegal substances).
If your tenant does one of these things, start the eviction process by serving the tenant with an official written notice. Each reason for eviction has its own rules regarding the length of notice.
Here's a quick breakdown of each:

Step 2: File the Complaint in the Appropriate Court
After issuing the tenant an eviction notice , the next step is to head to the justice court where the rental property belongs. There, you must file a complaint, which typically costs $45 in Michigan. You might get additional fees of up to $150 though if your case involves overdue payments or damage fees.
An officer of the court will then serve your tenant with the complaint and court summons at least three (3) days before the hearing. They must do so via first-class mail and at least one of these:
Giving a copy to the tenant in person
Leaving a copy with the tenant's family member with a request to deliver it to the tenant
Posting a copy on the main entrance of the tenant's rental property
The officer should also have a return receipt confirming that the complaint was sent via first-class mail.
Step 3: Attend the Court Hearing
The eviction hearing takes place within ten (10) days of the summons being issued by the court. However, the court may sometimes decide to hear the case within just five (5) days.
Tenants may object to the eviction by filing a written letter to the court, but it's not a legal requirement.
If the tenant fails to show up for the hearing, the court will issue a default judgment in your favor. In some cases, the judge can choose to postpone the hearing for seven (7) days, but if they don't, then they'll issue a writ of restitution, allowing the eviction process to continue.
This step of the eviction process is usually over within five (5) to ten (10) days, depending on the court's rules. But if one party files an appeal against the judge's decision, it will likely take longer.
Step 4: Wait for the Issuance of the Writ of Restitution
If the court decides in your favor, it will issue a writ of restitution, which serves as the tenant's final notice to vacate the rental property. It also gives the tenants the chance to remove all their belongings before the authorities forcibly remove them and return the unit to you.
The writ of restitution is usually issued ten (10) days after the court serves its judgment, which gives the tenant enough time to file an appeal. However, if they are being evicted for illegal drug activity or health and safety violations, then the writ is issued immediately.
Step 5: Give the Writ of Restitution to Law Enforcement Officials
You have to give law enforcement officials the writ of restitution within seven (7) days of it being issued by the court. However, state law does not specify how quickly you must act, so that'll be up to your discretion or the number of other evictions already scheduled.
Some areas have introduced guidelines on how quickly the authorities must carry out the writ of restitution, so be sure to familiarize yourself with your local laws.
After receiving the writ of restitution, check with your area's laws to see if there are local guidelines on how quickly the authorities must carry it out.
Evicting Tenants in Michigan is Complicated, But Doable
Evicting a tenant takes anywhere between two weeks to two months, depending on your circumstances and the reason for eviction. It takes even longer if the tenant decides to appeal the court's decision. The eviction process may be complicated, but it's easier with a trained lawyer and property management company.
Get in touch with our team today to help you with everything—from serving official notices to providing writ of restitutions. You're in good hands with our experienced, expert team.