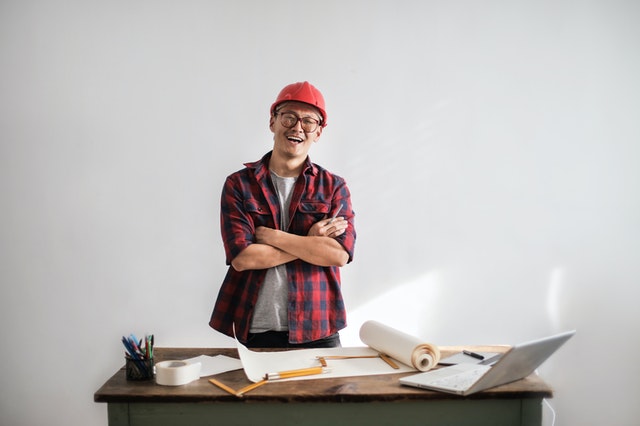 Finding a general contractor (GC) for your house flip can be challenging.
You want someone who knows what they're doing, is trustworthy, has affordable prices, and has good reviews. This means you need to do proper research before hiring a general contractor—don't hire the first one you find!
As a flipper, your main goal is to earn a high flipping profit in return for your investment. To do that, you need to renovate the house within a specific budget and timeframe, which means using contractors who stick to deadlines and understand the importance of flippers' margins.
While simple repairs are easy to budget for and can be done within a month, more complex renovations can easily incur budget overruns and take more than a couple of months to complete. In these cases, it's best that you hire a general contractor to handle the project for you, or assemble a team of go-to contractors that you work with regularly on your flipping projects. Which you go for will depend on your needs, but this article focuses only on general contractors.
Let's go through some best practices for finding the ideal general contractor for your flip projects.
Independent Contractor vs. General Contractor
Before we go any further, it's important to make a distinction between independent and general contractors:
Independent Contractors: These are contractors that you directly contract to perform tasks on a contractual basis. They complete the project themselves, without the help of subcontractors.
General Contractors: These are also directly contracted; however, tasks are subsequently contracted to subcontractors to complete. They complete the project along with their subcontractors instead of completing the project by themselves. They also handle all the administrative tasks needed (e.g., paying subcontractors, securing building permits, getting insurance for all workers, etc.).
General contractors will coordinate with necessary subcontractors on your behalf and oversee the project for timely and on-budget completion. They are ideal for major renovations and flips, because you can get all aspects of the renovation handled by a single entity.
What to Look for in a General Contractor
Here are the key things to look for in a general contractor:
A Good Reputation: The best way to find a general contractor is by asking for recommendations. Contractors work largely based on referrals. Ask your friends and the real estate community if they can vouch for somebody reliable, communicative, and punctual.
Once you have a list of options, go the extra mile to read online review websites and visit the Better Business Bureau to check their reputation and ask about the projects they've worked on before.
A Good Contract: Hiring a GC on a handshake is not a good idea. You'll want a contract that spells out what they will do and what you will do, with deadlines. The more thorough the better! Otherwise, there'll be no accountability and your project can go sideways quickly.
Appropriate Payment Practices: A good general contractor will accept payments in the form of checks and wire transfers. They would also agree to sign a lien release before payment and negotiate with you on the payment schedule.
Stay away from contractors who want you to pay in cash or a lot upfront. Cash payments are not illegal; however, contractors who ask for them might be avoiding paying income taxes. This is a practice done by less-than-reputable contractors. Moreover, a down payment of 30% of estimated costs is typical to cover an initial retainer and materials, but an established contractor won't need your full payment to start the job.
Local Coverage: Hiring a general contractor who lives and operates within the area of your flip is your best option. They will know the local building codes, city inspectors, have a network of subcontractors ready to help them, and you can easily contact them in the event of an emergency.
Proper Licensing: General contractors need to be licensed to pull the necessary permits for your property. Without these, your property won't abide by the local building codes or pass inspection. You'll end up financially responsible for bringing up the property to the required standards.
Instead, verify their license by asking for the license number. Check it with your state's licensing board. For licensure information in Michigan, visit the state's Department of Licensing and Regulatory Affairs website for details on the Bureau of Professional Licensing's requirements.
Proper Insurance: General contractors should be insured for General Liability Insurance and Workers' Compensation. You can ask to see a copy of their policy and call up the insurance company to verify the information. The insurance should be current and have clear policy limits for you to check. You should also be added as an "additionally insured" on their policy, until your project is complete.
Warranty in Writing: General contractors should provide warranties that cover the work they've done in your property. A warranty assures them that they won't be coming back for multiple repairs over an extended period of time (warranties typically last one year only) while guaranteeing you a good renovation result.
This list isn't exhaustive, but it'll put you on the right track in finding your ideal general contractor.
Questions to Ask During the Interview
As part of the process, you should also have an interview with the general contractor. Here is a list of questions you can ask to help you identify those who'll fit your criteria:
How many people work for you? How long has your crew been working together?
You want to work with an established company that has a large team of managers and assistants.
Where are you operating, and what is your service coverage?
You want to work with a local company that knows its way around renovations in the area.
What similar past projects have you completed?
You want to see their experience concerning the project you're giving them. If they've never done what you need them to do, ask them how they will approach the project.
How do you communicate with your clients?
They should give you daily or weekly progress reports with photos and send itemized, detailed quotes and invoices.
For this project, will you be using subcontractors or just your own team?
If they are using subcontractors, make sure that all workers are trained, licensed (if applicable), and insured.
Are you licensed and insured?
Licenses should be updated and registered in the state where your property is situated. Insurance should include General Liability Insurance and Workers' Compensation.
What would our contract look like?
Not all general contractors will have contracts. If they don't, you can draft one up. Regardless, have your lawyer review it before everybody signs.
Will you provide warranties?
Make sure the warranty is written down and will conform to the requirements of the contract.
How will the payment schedule and plan work? Will you agree to sign lien releases?
Agree and sign the payment schedule before the job begins. They should agree to sign lien releases before payment.
Have you ever had to deal with lawsuits?
If they've been sued, ask what happened and how they handled it. If they've sued a client, ask for further information and check public records. If they've had serious accidents before, ask how they dealt with the situation and what they've improved to make sure it doesn't happen again.
Conclusion
We hope this article is enlightening and helpful in your search for a general contractor. It might take a lot of effort, but having a reliable and skilled general contractor will protect your budget and timeline for a successful and profitable house flipping project.
The better your general contractor, the more houses you can flip fast, at the highest quality, and for the most competitive price.
Any additional tips for finding the ideal general contractor as a flipper?
Image courtesy of Andrea Piacquadio