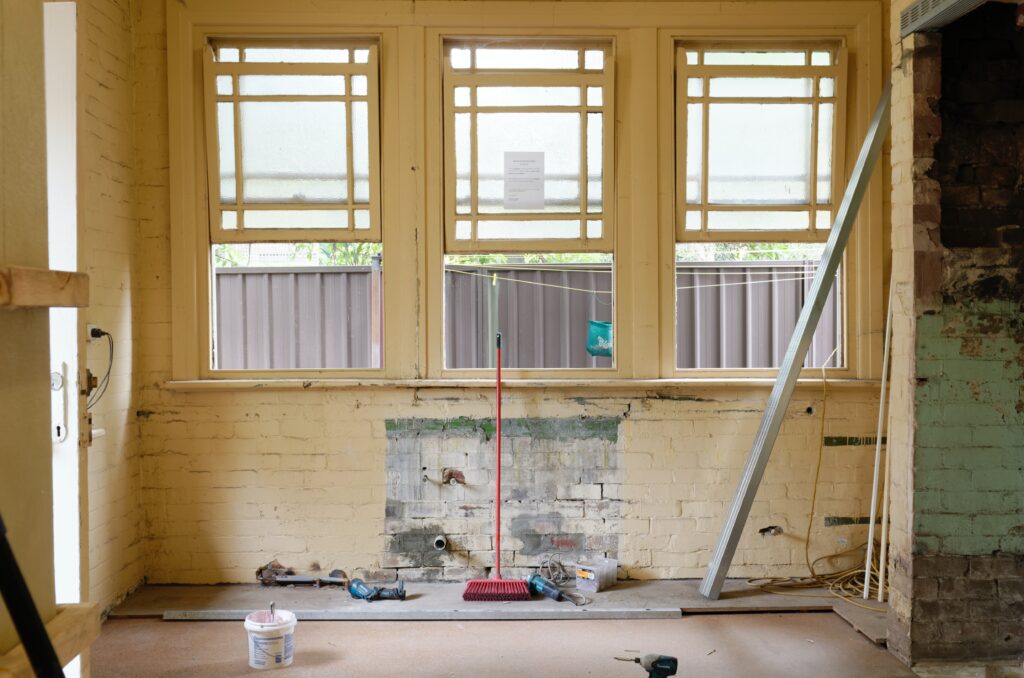 Don't you love it when people watch house flipping and renovation TV shows and say, "wow, it looks so easy to flip houses for great returns"? But the reality is that flipping is a risky business that requires a lot of hard work, excellent project management skills, and savvy budgeting in order to succeed.
One of the most important parts of flipping houses is the way you restore it for reselling. Some flippers like to do nearly all the renovations themselves to save on costs, but others would rather pay contractors to do it to save on time. Many also opt for a mix of DIY and professional contractors, but in this case, which jobs should you handle yourself, and which are best left to the pros?
While it's generally cheaper to DIY, those savings could be nullified if you do it wrong and end up with expensive corrections. And while some tasks might look easy, you need to give up significant hours of your own time to learn and accomplish them. So if we look at the time/cost benefit analysis, which jobs are worth doing yourself?
PLAN OUT THE RENOVATION
Before you start swinging a hammer in good faith, go over the whole property and list down all the repairs that it needs, taking into account the cost and lead times for each. If you're going to DIY, you have to be able to accurately calculate their costs and realistically estimate the time it will take to complete, as well as the order in which projects should be carried out.
DO WHAT YOU KNOW, HIRE WHAT YOU DON'T
SKILL REQUIREMENTS
Fixing high-ticket areas like the roof, floors, and kitchen areas yourself can save a lot of money, because professionals usually charge a premium for these services. However, the reason for that is these tasks require a high level of expertise to do them well. When done poorly, constantly repairing them will outweigh the money you supposedly saved by doing it yourself.
You might be charged anywhere from $300 – $10,000 for a professionally installed drywall, while you can do it yourself for significantly less. Similarly, painting will cost you $2-3 per square foot if you get it done professionally, whereas you can do it yourself for just the cost of the paint – it also has a low skill requirement, so not much can go wrong if you DIY.
So if you have experience in doing these, by all means, DIY. But being inexperienced will only leave you with wasted time, accidents, more repairs to fix, and a lower flipping profit.
PAPERWORK REQUIREMENTS
Some repairs require specific building codes, permits, and inspections, like removing walls or installing new bathrooms. Better steer clear from DIY-ing these, unless you plan to leave your full-time job to be a contractor yourself. A professional will help you with the paperwork required and provide knowledge if the wall is load-bearing, or if you'd need more space for a bathroom. Their work is also insured, so if anything does go wrong, you'll know that it's covered.
A GENERAL GUIDE
Which jobs you do yourself should be based on your skillset and condition of the house, as well as permit requirements. Some jobs will require a licensed professional, like installing complete new plumbing, which you need a permit for, unless you want to get a citation from the city. A homeowner can pull their own permit in most states, without a license, because the homeowner is the one taking the risk. But if you do it wrong, you could have an electrical fire, etc., or end up failing your building inspection and being told to redo it.
However, this list should give you a general guide on when to DIY and when to hire a professional:
DO IT YOURSELF
Fix an outlet, doorknob, lights
Painting
Install baseboards
Install laminate flooring or luxury vinyl
Insulate open walls
Install a toilet (bowl)
Install minor PEX plumbing
HIRE A PROFESSIONAL
Additions
Replacing sidewalks and driveways
Replumbing the whole house
New electrical service panel and circuits
Replacing windows
Install solid hardwood flooring
Installing a furnace or central AC
Timing is everything with a flip, so work within your set of skills. Consider splitting the workload between you and a contractor who can compensate in places where you struggle. That way, you can focus on the things you know how to do, and still save yourself some money. At the same time, you're not being slowed down by more complicated projects which will take you as a DIY-er much longer than a professional team to carry out.
What are the fixes you DIY when you flip a house, and which do you always leave to the pros?
Image Courtesy of Laurie Shaw