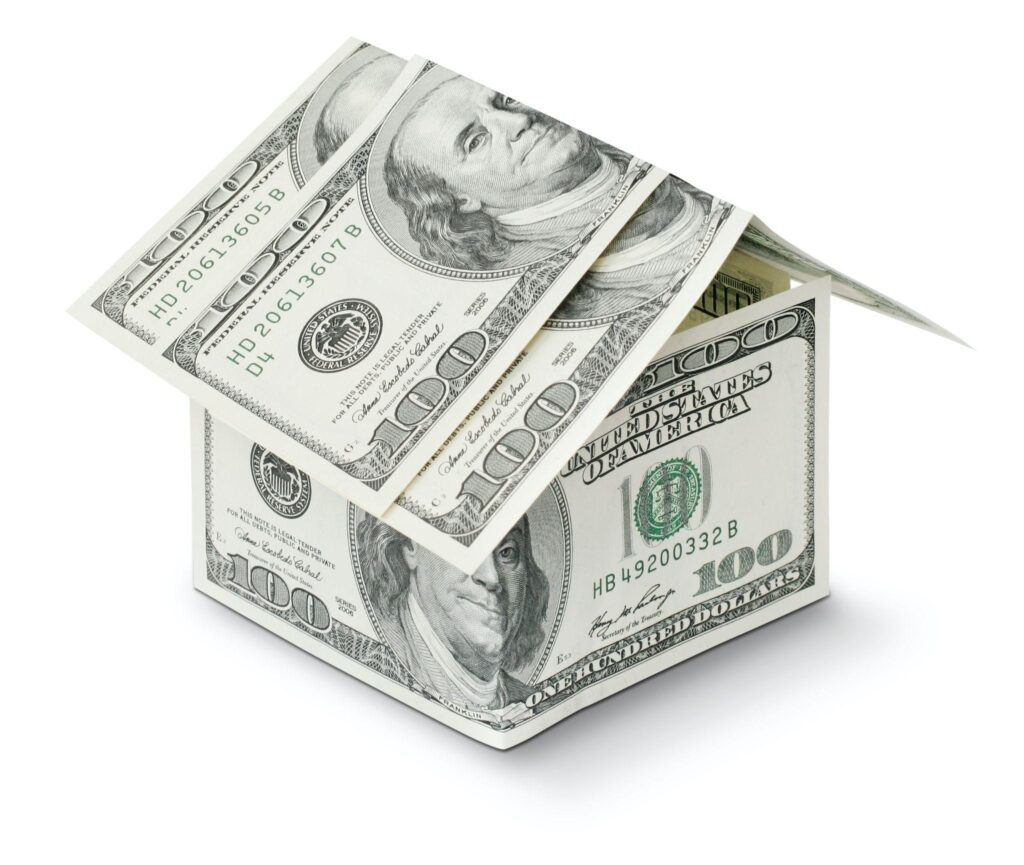 Pricing your rental property perfectly is a complicated dance.
Price it too high, and you'll reduce the number of bookings dramatically; price it too low, and you'll leave money on the table and not make enough profits to cover the inevitable expenses.
So what do you do?
The task defeats most humans, but it's nothing too tricky for technologies to figure out. So read ahead to learn the top three tools to price your short-term rental perfectly, finding that sweet spot price that attracts enough renters without undercutting your profits.
Criteria for Finding the Perfect Tool for Pricing Short-Term Rentals
There are different ways to price your rental, depending on the type of rental property it is. For example, a vacation rental will be priced differently than an urban apartment rental. And within each category, some subcategories will also change the price (i.e., a luxury condo in New York City will go for more than a standard one-bedroom in Tucson).
The perfect tool for pricing your rental should consider all of these factors and give you a competitive estimate based on comparable properties in your area. It should also allow you to adjust the price according to your goals and objectives, whether you're looking to maximize profit or occupancy.
So, here are four key things to look for in a rental pricing tool:
Ease of Use: The best pricing tools are easy to use and don't require a lot of data input.
Accuracy: The tool should be based on real-time data and accurate market trends.
Flexibility: You should be able to adjust the price according to your own goals and objectives.
Integration Ability: The ideal tool can integrate with other vacation rental software (e.g., channel managers, property management systems, and property listing sites).
We've used these criteria to provide you with five of the best pricing tools in the market today.
Top 3 Short Term Rental Pricing Tools
As a property management company, we've used nearly all the tools you've heard about. Based on our experience, these are the top five pricing tools we've found to be easy to use, accurate, flexible, and integrate with other software easily.
1. Airbtics: Get Ahead of the Pricing Competition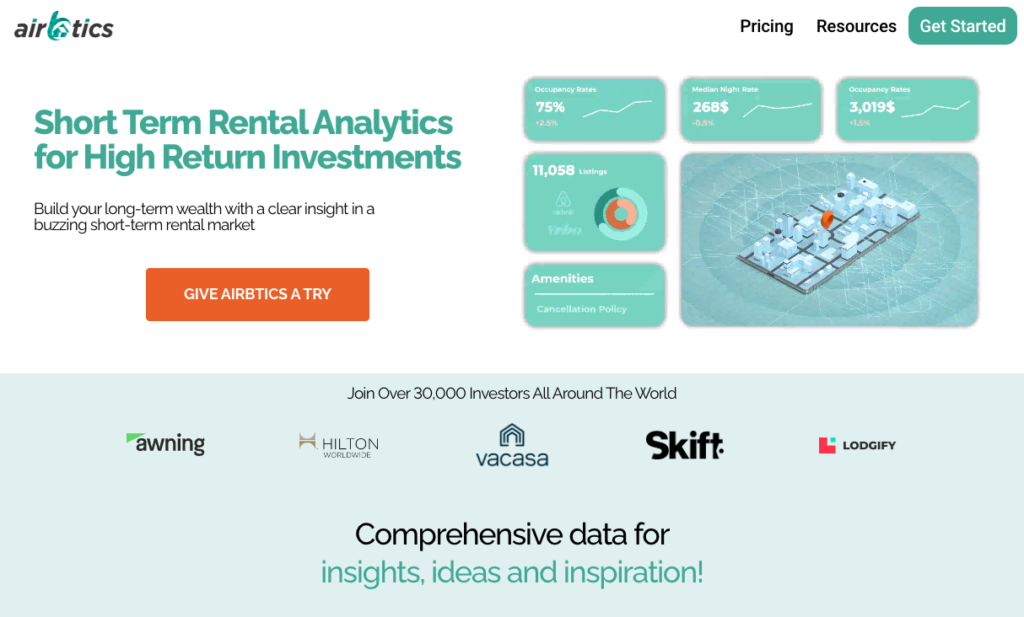 Airbtics is a dynamic vacation rental pricing tool that allows users to filter daily prices of similar rentals based on trends. The tool will recommend pricing based on its machine learning algorithm that uses real-time booking data, so all its suggestions are accurate and considers spikes in supply and demand. You can also integrate it with any property management system or tech solutions you're currently using.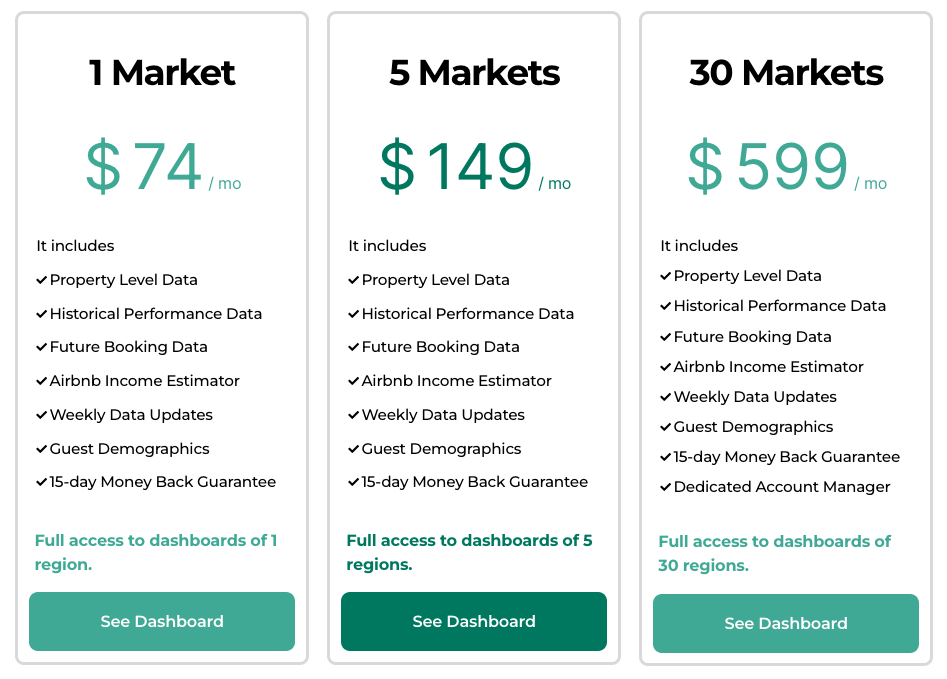 Moreover, Airbtics charges a fixed rate—unusual for pricing tools that usually takes a 1-2% commission from the user. There's also a 15-day trial period for property managers with at least 5 properties.
2. Beyond Pricing: Optimize Your Pricing Opportunities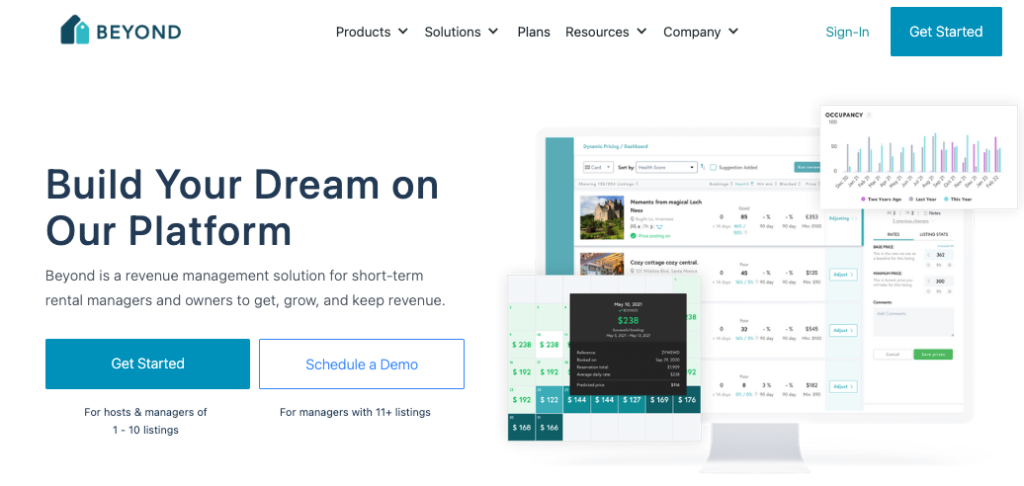 Beyond Pricing is an advanced short term rental pricing software that considers changes in demand on a daily basis, all to help you maximize your short-term rental occupancy and revenue. It even rates your properties with a Health Score to ensure that you're aware of your opportunities for optimization.
Moreover, you'll see detailed insights with every price recommendation, so you understand the reason for every suggested price. And it's not just for the current landscape, as Beyond Pricing will provide forecasts and recommendations for pricing your rental next year.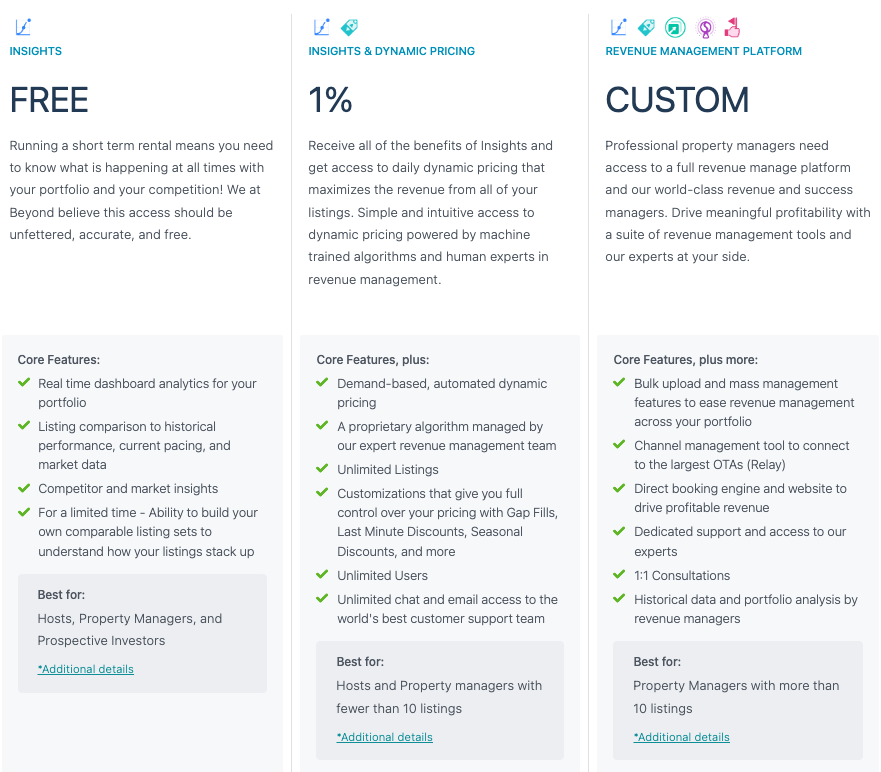 Beyond Pricing comes with a free insights package, but you can take it a bit further with their paid plans. It also offers custom plans for unique portfolios, and can connect to popular property management systems and channel managers.
3. PriceLabs: Customize According to Market Movements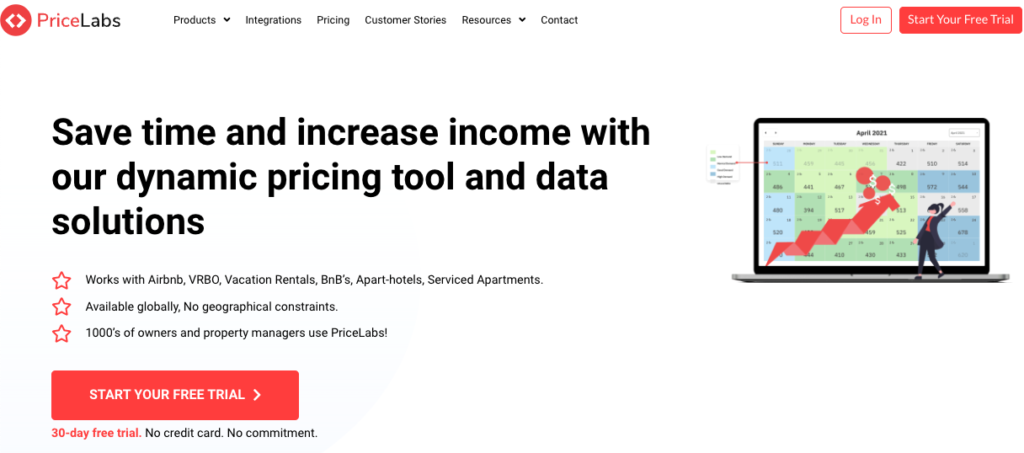 PriceLabs is a customizable, data-driven pricing tool to boost your revenue. Its price recommendations are based on the market's supply and demand, seasonalities, short-term rental trends, special events and holidays, and lead time. It'll pinpoint the dates where demand is high by checking the data of nearby listings, analyze historical data, and evaluate your listing's performance to give the best pricing possible.
PriceLabs' customization features include setting dynamic minimum stays, enabling occupancy-based pricing adjustments, and more. Plus, the tool can easily connect to more than 30 property management systems and channel managers.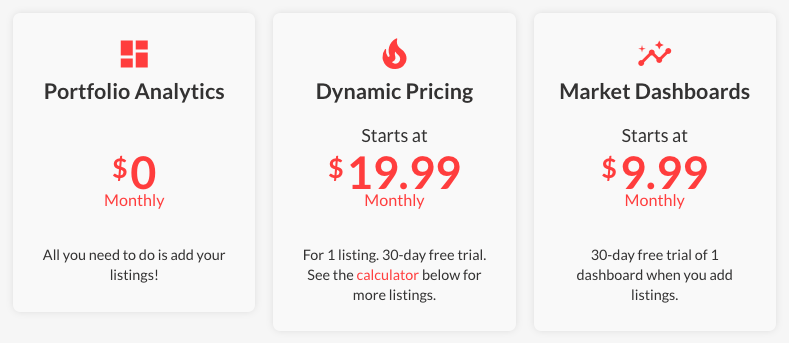 Its pricing structure works as you scale your business, which is perfect for growing portfolios. There's also a 30-day free trial before a contract that you can cancel anytime, and it charges a flat monthly fee.
Price Your Short-Term Rental for Maximum Occupancy and Revenue
All three of the dynamic pricing solutions above are excellent choices for optimizing your short-term rental prices. They use different methods for price recommendations, but they're all accurate to your market. And, most importantly, they integrate well with other software solutions you're currently using.
Of course, the alternative to using technology is to hire an expert property management company that knows the local market inside out. If you're investing in the Metro Detroit area, give us a call! We have the experience and knowledge to manage your rentals for maximum occupancy and revenue.
Sign up as a REIA member, subscribe to our newsletter, and join our upcoming meeting to get insider knowledge on real estate investing. This is your opportunity to network and become a better short-term rental landlord and investor as fast as possible.