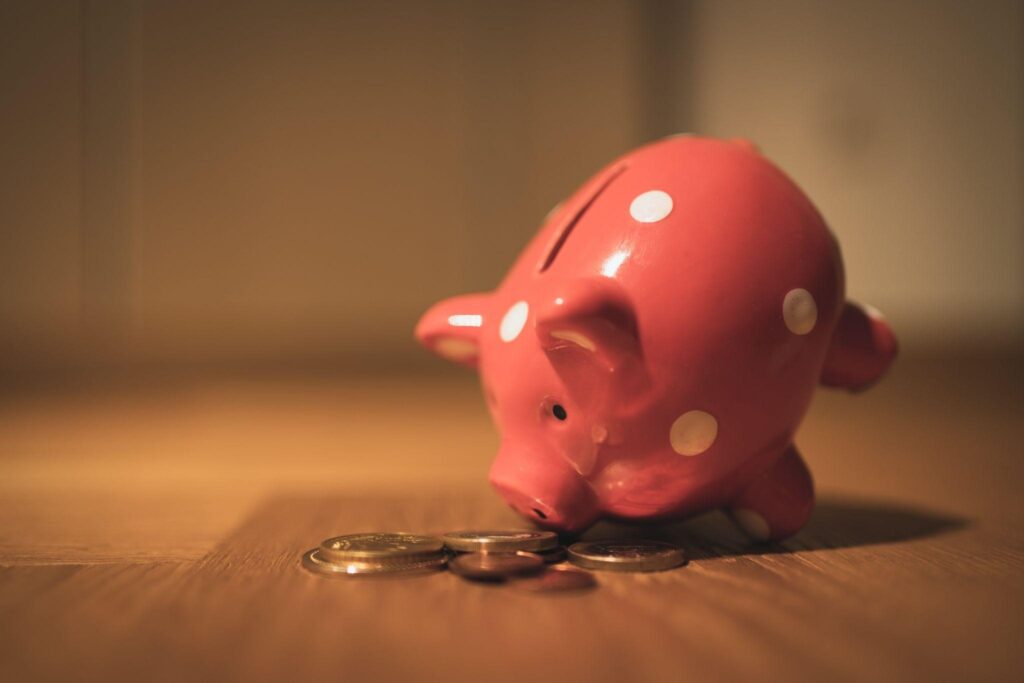 We've all seen the headlines—average rent prices are falling for the first time since the latter part of 2020 when COVID was the culprit. For those invested in Detroit rental properties though, the news isn't as bad as in other parts of the country.
Let's look at what happened in the Detroit market, for you to stay updated and vigilant in protecting your investments. (TL;DR? Don't panic! It's real estate market dynamics.)
Nationwide Rents Decline in Major US Cities
As the graph below shows, the August national average rent price, according to Redfin, was up 11% year-over-year from 2021. If you compare it to past trends, this figure is the smallest recent annual increase we've seen—down from a 19% gain in March 2022.
Even if we were to look at the month-on-month growth, the median rent only moved slightly by 0.4%, which is the slowest growth since late 2021 and a drop from the 1.6% increase last year.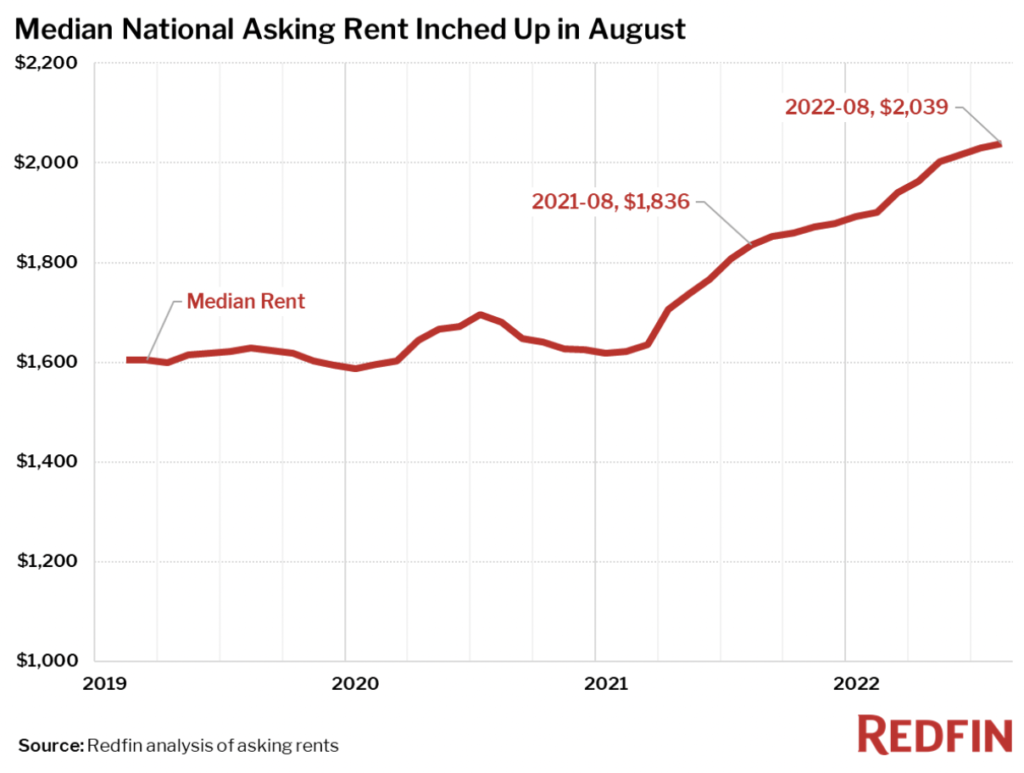 "Rent growth will likely slow further as the Federal Reserve continues to raise interest rates. Higher interest rates impact the rental market because they put a damper on spending power in the economy as a whole, including renters' budgets," Taylor Marr, Redfin's Deputy Chief Economist, said.
Rent Trends in the Detroit Housing Market
We can't confirm if the data below only covers the City of Detroit or the entire Metro Detroit area, but we see that the market is included in the top rent price drops nationwide in August 2022: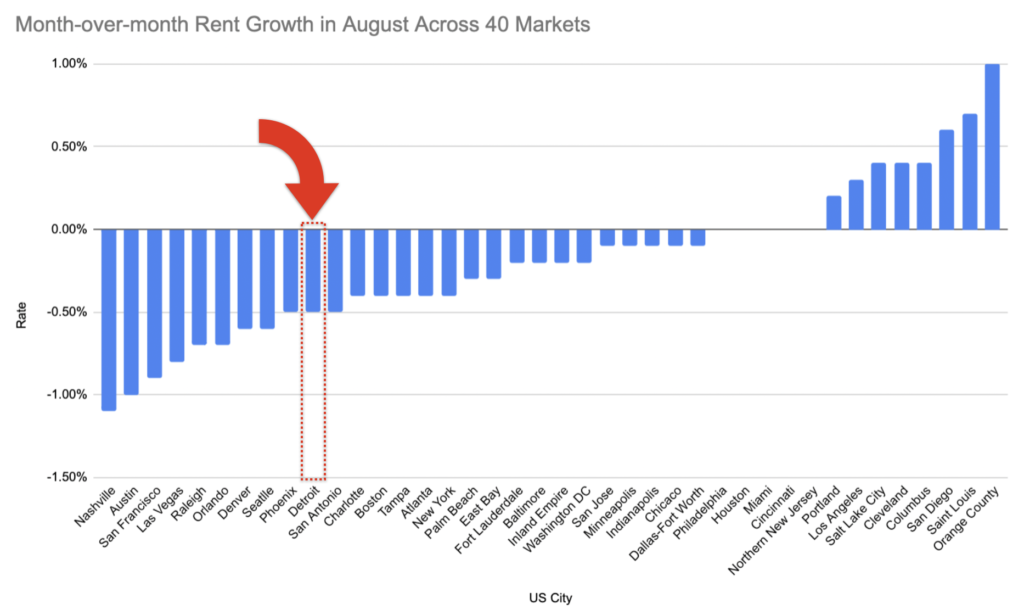 Moreover, executive director of Detroit Future City, Anika Goss, shared, "During the pandemic… people living in the bottom quadrant of the income scale were not being supported. If rent softens and people are back to work in 2022, we might see an evening out… in a year or two years."
Should Detroit investors lower their rent to attract and retain tenants? Fewer people are purchasing homes but they still need a roof over their heads, so they rent. But it seems like Detroiters in the lower demographics are struggling to pay rent, even with the supposed decline in rent average.
Then again, the data above might only reflect rent decline in the City of Detroit—excluding the rest of Metro Detroit which includes far more affluent areas like Oakland County. As we know, these areas aren't as affected by economic downturns compared to lower income zones.
In fact, based on our observations as a property management company in Metro Detroit, rent averages have flatlined (not declined). The reason why reports show dropping rent averages in the City of Detroit is likely due to an increase in vacant properties instead.
Looking at recent statistics and trends, the city is actually doing pretty well:
The city still has exceptionally low home prices with a median sales price of $100,000—a growth of 38% from late 2021 to 2022. In terms of rent, it's also the fastest-growing city in the metropolitan area, where rent averages are said to have increased by 32% from 2021 to 2022.
The average rent for a one-bedroom apartment in the city is $1,000, which is a 4% decrease compared to a year before (February 2022). For a three-bedroom though—which is more popular in the housing market—the median rent is $1,200, which is a positive 9% year-over-year change.
Plus, looking at Zillow data, the City of Detroit saw an  increase in average rent, where investors are charging $20 higher rent than last year: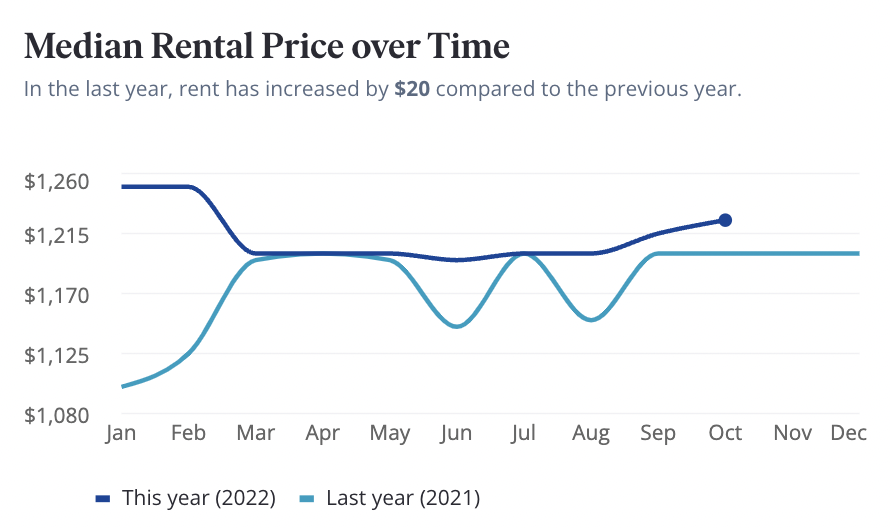 The data above is good news for Metro Detroit investors. And if you do have tenants struggling to keep up with rent payments, we suggest that you reevaluate by asking the following questions:
Are you charging above neighborhood rent averages?
Are your tenants struggling with rent payments?
Are they paying on time and in full?
If you screened your tenants well, they might not have financial problems. But if the economy's downturn caused them to lose their jobs that affected their income, you might need to help them out.
"Gas prices are coming back down, but rents are going up 10, 12, 15%. And rent can end up taking 40% of these households' income," Bank of America CEO Brian Moynihan said.
Ultimately, your cash flow depends largely on your tenant's ability to pay rent. As much as you want to generate top dollar from your rental properties, you won't get any returns if the renters themselves can't afford your home in the first place.
Finding the Sweet Spot for Rent Prices in the City of Detroit
The City of Detroit (and certain areas of Metro Detroit) remains to be a landlord's market, with rent prices increasing despite the economic downturn. It presents an opportunity for investors willing to lower their rents to attract more tenants than ever before, although doing so requires careful financial evaluation.
Screen your tenants carefully and keep an eye on the economy, and your rental properties will remain profitable even with all the market shifts happening. Your goal is to secure capable tenants while generating a healthy return on investment—find that sweet spot for a win-win solution.
Do you want more tips and guidance on navigating the Detroit market?
Sign up as a member, subscribe to our newsletter, and join us in our upcoming meetings. Let's share information and expert tips to ensure that our investments adjust and adapt to the market.