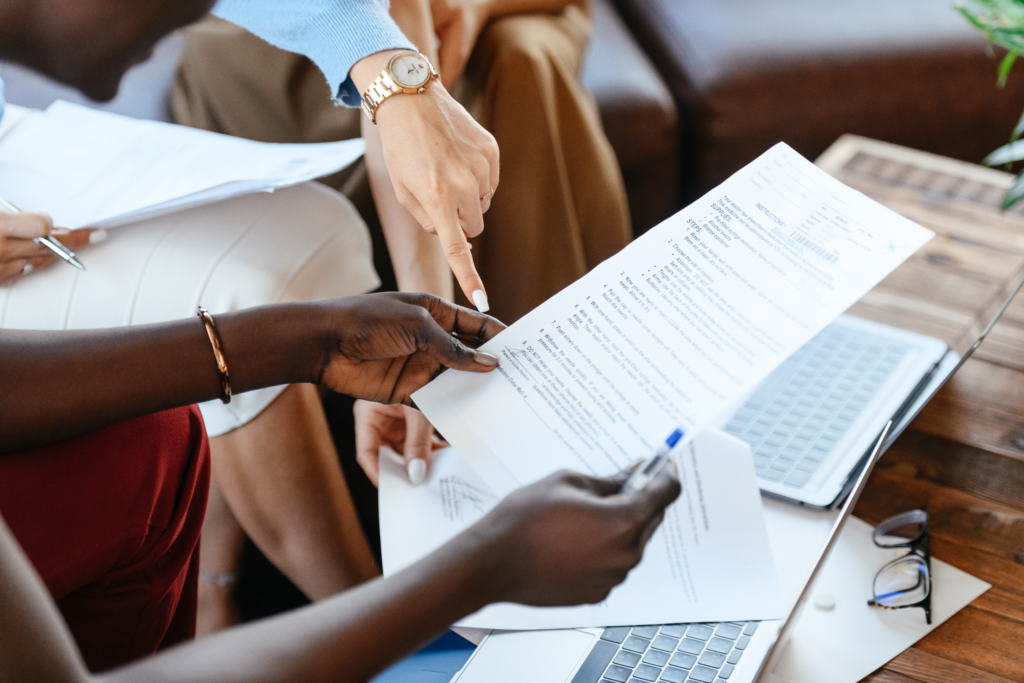 If you only want to buy a single house to fix and flip as they do on TV shows, do you really need a full-blown business plan? Well, yes! You certainly need one if you want to succeed in the game.
Even if you're just flipping one house, going in unprepared and without a plan is setting yourself up for trouble. You can go over budget, waste time due to lack of scheduling, and sabotage your house flip.
Instead, go through this Build Your Flipping Empire series to learn how to make a flipping business plan before you jump in with both feet. Doing so, you'll complete your investment on time and on budget, making a hefty profit that you can roll over into your next project.
In other words, you'll carve out a path that'll lead you to long-term success in house flipping.
We've already covered the importance of having a house flipping business plan[1]. Now, let's take a look into what you actually need to put into it—one part at a time.
1. Executive Summary
The executive summary is a synopsis of your entire business plan and serves as the first impression. Remember that potential lenders, financiers, and other business prospects will often only read the executive summary, so ensure that it provides a concise and comprehensive overview of your plan.
You should also include your mission statement here to show your goals and values as a house flipper. For example, if you value family-friendly, move-in-ready house flip projects, your mission statement can say, "Our mission is to grow our house flipping empire one property at a time by turning distressed properties into profitable ones for aspiring young families."
2. Management Team
A good business plan also has your contacts in place and responsibilities assigned. From the contractors to the real estate agent, list all of them down with detailed roles, qualifications, and experience in house flipping projects.
Here's an example of what this section will look like:
My team is composed of professionals equipped with the necessary skill sets and work experience to get the job done with quality and efficiency.
General Contractor: John Smith
For over 20 years, Smith and his team of subcontractors (plumbers, electricians, painters, roofers, etc.) have fixed homes all around the City of Detroit. Regarded for his quick and skillful work, Smith has earned the trust of two generations of Detroit residents.
Real Estate Agent: Jane Doe
Doe is an exceptional licensed real estate agent specializing in wholesale and house flipping deals. In her 17 years in the industry, she closes a whopping 4-6 deals per quarter, averaging 20 per year.
Alumni of the University of Michigan, Miller graduated with a bachelor's degree in accounting. Her financial skills can effectively expense accounted for and within budget, helping our team generate the highest flipping profits.
If you're new to house flipping and don't have a lot of connections yet, then take this as an opportunity to build your team. You don't want to waste time gathering people once a flipping project starts, as having the best people around will contribute to the stability of your operations.
3. Goals & Objectives
Think about what your ultimate goal is for the house-flipping business. Do you just want to flip 1 house a year? Or do you want to build a nationwide flipping empire to quit your day job? Remember to make your goals actionable, measurable, and realistic based on your available resources.
Here's an example:
Our goal is to be one of the leading house-flipping empires in Michigan. Starting from the City of Detroit, we'll grow our portfolio by expanding to neighboring cities until we have projects all around the state.
One by one, we will purchase distressed properties, and flip them into quality homes, all the while turning a profit to fund future projects as we continually grow our house-flipping empire. Our ultimate objective is to flip unloved properties into family homes.
Pro tip: Break down long-term goals into short-term ones so they're easier to achieve and clearly mark the journey towards achieving the overall business objective.
4. Market Analysis
Knowing the real estate market in detail can help you make informed decisions moving forward. The market analysis provides insights to assess whether your business plans are likely to succeed or need some tweaking, all in relation to the competition.
Additionally, your market analysis will show prospective lenders, investors, and business partners your market knowledge and how you plan to use that for your financial plans and gain.
Here's a list of questions to guide your market analysis:
Is the neighborhood gaining real estate popularity?
Is the property type you're flipping in demand?
Is there a large pool of potential buyers?
What are the local crime rates?
How far is my prospective property from the necessary facilities?
What are my weaknesses against the competition?
What are my strengths against the competition?
Let's use some data from 2021 to have a quick look at how a market analysis can go:
Recent statistics show a rise in flipping activity in Michigan. For example, in two Wayne County zip codes alone, 25% of all real estate sales were house flips, and Redford saw a 99.9% increase in house flipping in the first quarter of 2021—doubling the rates of the previous quarter.
Given the statistics, you can see these parts of Michigan are highly saturated and competitive. We can infer that pricing gets more competitive, with margins between buying distressed property and selling a flipped house getting smaller.
As for the whole state of Michigan, the online newsletter Michigan Chronicle reported in 2021 that house flipping is experiencing a huge resurgence providing "a lot of opportunities". Michigan Chronicle used statistics by ATTOM data solutions and found that average Michigan flippers pocket minimum 20% of sales profits.
Although some cities in Michigan are highly competitive with advanced house flippers, there is still an abundance of opportunities state-wide for novices. Strategically, we can start in less competitive areas until we progress to more advanced markets.
The market is always shifting, however, so ensure that you constantly update your plan. After all, a great business plan is one that remains relevant and can guide you even in the later stages of your empire.
A market analysis is an opportunity for you to learn more about the house-flipping business. Another focal point of this section is getting to know the competition—how competitive is the market? What makes them competitive? Are there certain competitors to look out for?
Take note that getting into the flipping business without learning about it is one of the novice mistakes you want to avoid, so take your time with this section.
5. SWOT Analysis
"SWOT" stands for Strengths, Weaknesses, Opportunities, and Threats. Your SWOT analysis lets you gauge how you compare to the competition, identifying your relative performance in the market.
Let's break down each letter and see what you should put within each section: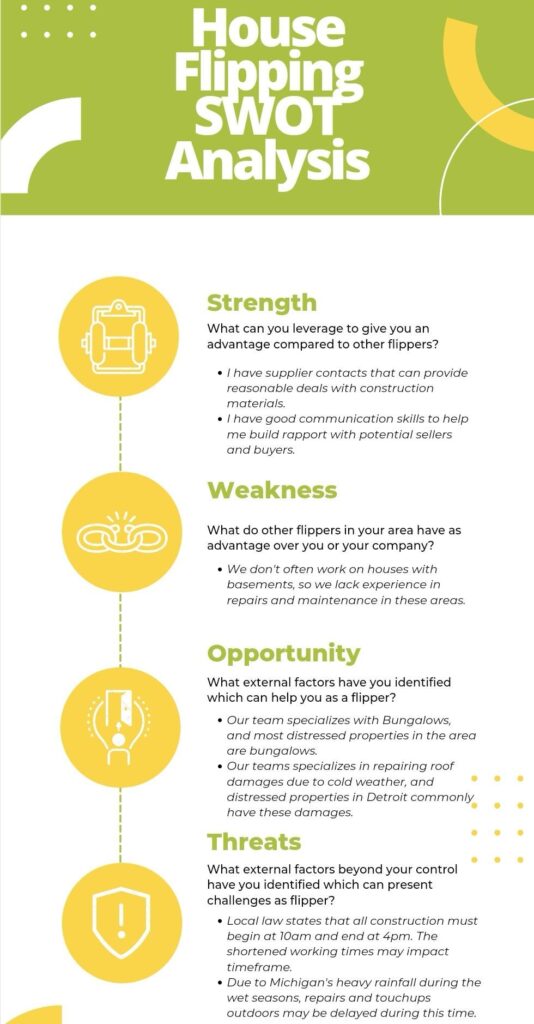 Referring to the infographic above, the guide questions show you what's being asked for under each section. After the guide questions, the bullet points show sample information of what you input.
The SWOT analysis examines 3 factors: you, your competition, and the external factors of the area you plan to do business in. By having comprehensive knowledge of these factors, you can work smarter, and in turn, maximize your profits.
We've only scratched the surface of what goes in this section of a house-flipping business plan. If you want to take a deeper dive into the SWOT analysis, we'll go into this in part 3 of the series!
6. Lead Generation & Marketing Strategies
Next, determine the best ways you can generate leads and market your business. We understand that this can be a challenge in the house flipping business, but try out these methods to get started:
Leverage Networking: Helping other real estate investors is a great way to keep your deals flowing. Pooling together resources can help you establish mutually beneficial relationships with other flippers and other real estate investors. Even if you have to split the profits, networking gives you consistent work while building your empire.
Drive for Dollars: There are many leads out there that can offer you profitable deals, and it's just a matter of driving around and finding signs like "for rent" or "for sale." These signs often have contact details of the assigned real estate agent or seller listed, where you can make direct calls to ask about possible deals. It's also a great opportunity for you to build your network of agents.
Real Estate Agents: If you're looking for a helping hand that has substantial knowledge of the real estate market, a real estate agent is your best bet. They can help you find leads, teach you the tricks of the trade, and get word of your house flips out in the market. Since these relationships are mutually beneficial, they can even become a long-term business partner.
These are just some lead generation and marketing strategies we found will be the most helpful for your house flipping projects, but you can use a mix of different strategies for more results. Remember to list down and define which ones you plan on using in your house-flipping business plan.
7. Finance Plans & Projections
You can't do any business if your finances aren't in order. So, will you be financing your house flip projects out of your own pocket or will you seek the aid of a lender? Because if you need funding, then it's paramount that you earn their trust.
So, here's what you need to include in this section:
Documents: Prepare all the necessary documents that show you're financially able and responsible. You can include income statements, cash flow statements, and balance sheets.
Earnings: Tackle how much you expect to earn and how you will allocate your earnings. If you expect to earn $50,000 per deal? $75,000? Will you allocate 80% for future project funds? Will you keep 20% or less for yourself?
Budgeting: Although each project will come with its own set of repairs and touch-ups, it's always good to have a standard budget as a guideline. You can list them out as percentages, so you show how you'll stick to a budget and avoid over-improving properties to protect your profits.
Projections: Go over your business projections. Where do you see yourself months from now? What about 3 years after? Your projection should cover the next 2-5 years to give a clear picture.
Remember: One of the main reasons for making a business plan is to use it for getting approval on loans. So make it awfully clear how financially viable your flipping business is to earn others' confidence.
8. Growth Strategy
We understand that it's hard to think far into the future when you're still getting your business off the ground. However, setting goals can keep you in line while showing future lenders, investors, and potential business partners that you are dedicated to building your house-flipping empire.
Here are a few examples:
Invest in Single-Family Homes: Single-family homes are a commodity that most types of buyers consider, so the pool of prospective buyers is larger. Opting for these kinds of properties increases your chances of closing a deal while lessening the effort you put out to gather leads and market the property.
Diversify your Real Estate Portfolio: Although house flipping is the main priority in building a house flipping empire, that doesn't mean you can't add other real estate ventures to your portfolio like wholesaling real estate, as it also starts with distressed properties.
Plus, if a flip looks like it's going to flop, an exit strategy and an alternate venture you can consider are property rentals. In a nutshell, it's all about diversifying the investments in your portfolio to secure growth.
Growing Your Capital Faster: Another way of looking at "growth" is looking for opportunities that can grow your financial capital quicker. By choosing and making the right investments early on, you're on the fast lane to having more financial freedom, and in turn, the liberty to take on higher risks and higher reward projects.
There are more ways to ensure that your flipping empire grows. You can conduct more research to see what else you can do (and include in your business plan) so your vision is both short- and long-term.
9. Exit Strategy
Considering that your house flip project can flop when you're just starting out can be discouraging, but having an exit strategy can be a lifeline to saving your investment. Rather than looking at it as a backup plan for failure, see your exit strategy as a "Plan B" for you to turn a profit—whatever happens.
So, identify alternative ways where you can get a return on your investment. Here are some you can consider for your house flipping business plan:
Slash Your Price: Lower your price if you're pressed for time. If your flip seems like it's going to flop, lowering your price can effectively heat up the market again. Even if it's not as high as you expected, you can still walk away with some financial gain.
Tap a Different Market: If your house flip isn't picking up in the buyers' market, tapping into a different market can be a viable option. Long-term rental can present itself as another business venture and a form of passive income.
Rent It Out: With a property flipped and ready for residency, an alternative to closing a sale can be renting it out. Apart from being an alternative way of getting a return on your investment, you can add rental properties to your portfolio. Having different avenues of income also helps with gaining the financial stability you need to grow your house flipping empire.
Your exit strategy should be the next most financially sound option that aligns with your circumstances, so evaluate your situation carefully before taking any action.
A Foolproof Plan for Flipping Success
Learning more about the business, strategizing growth plans, and planning exit strategies can provide you with the direction you need to move forward with your goals.
Apart from serving as your guide, your house-flipping business plan will also provide comprehensive information on all areas of your business for new investors, lenders, potential business partners, and other people might do business with.
Business plans aren't just for you, but also for those who will work with you.
With all your bases covered, you are clear and confident in what you want to achieve and how you plan on achieving it. You'll be well on your way towards creating a house-flipping business that won't turn into an expensive, capital-depleting flop.
This is the second installment of our series on house-flipping businesses, so stay tuned for our last installment! And if you have any questions or specific topics you want to learn, let us know by dropping a comment below or getting directly in touch with our team.